History
Serving Kansas City & the Continental United States
GAMETIME ATHLETICS - IN THE BEGINNING
GameTime Athletics was founded in 2000. What started as an experiment turned out to be a real business venture and adventure that has gratefully, seen exponential growth since the company was created over two decades ago.
Back around 2000, in the town our leadership team grew up near, a relative was teaching at the local high school and a bid came in to maintain the school's athletic fields. The job description included mowing the grass, line painting the fields, and making sure surfaces were safe and in good playing conditions.
Ultimately, we won the bid and have been providing general maintenance of these same fields since then. Little did we know it would be here, on our first job, where the business foundation was molded. We ultimately honed our skills on the fly in these first few years and practiced our craft with some serious experimental trial and error.
THE LEARNING YEARS

Even though we didn't know exactly what we were going to specialize in initially, we spent the first few years learning the field maintenance industry, and just tried to meet our clients' objectives with what they needed.

Fortunately for us, over time, and after reaching out to other area schools and athletic departments within the Kansas City Metro area, we wound up busy enough to go out on our own and formed GameTime Athletics.
Some of our initial projects taught us how to properly irrigate and protect playing fields which allowed things to kind of morph from there. As we learned more, we were able to offer more.
At this time, our services ranged from field maintenance, irrigation, and field paint to mowing grass and general facility maintenance. All with the goal and focus on creating excellent playing conditions and producing superior facilities that not only looked good but were branded for the school accordingly.
We quickly realized that to become more of a one stop shop for our clients, we would need to explore other vendors so that our customers could start buying things they needed from us versus other 3rd parties they didn't have working relationships with.
Our day-to-day operations quickly led to conversations with our clients about other athletic equipment that could accompany our maintenance programs and things eventually grew in a very positive way from there.
We realized we could offer good options for infield conditioners that allowed dirt to be softer to play on as well as options on bases, fence top caps, windscreens, bleachers and all the sports equipment needed to help kids play their respective sport including bats, balls, goal posts and the like.
HOW GAMETIME ATHLETICS HAS EVOLVED
Today, we are still looking to expand our techniques and our customer base by maintaining solid relationships and growing with our customers in the areas they deem important for their sports programs. Of course, we still specialize in the maintenance and renovation of athletic fields but have since expanded our specialties and services to building batting cages, training areas, branding ball parks and supplying maintenance crews across the nation equipment of their own to manage their own ball fields.
As for us in the winter months, our focus shifts indoors for system repairs, padding and protection elements including installation projects like replacing backboards and rims on basketball courts, to creating indoor training facilities and supplying hitting and pitching cages for baseball and softball players.
Ultimately, our business today is two-fold. First, we have our customers where we work face-to-face with helping athletic directors and field operations on location and working with them on their brand and sport facility objectives. Secondly, we provide top-tier athletic products to organizations that needs one-off sports equipment or bulk equipment orders including physical education programs, church sports groups, competitive athletic organizations, school districts, colleges and parks and recreation leagues.
We are pleased to announce that today, GameTime Athletics, has distributor relationships with over 100 top manufacturers in the sports and athletic industry including Spalding, Wilson, Russell, Diamond, MacGregor, Gatorade, Brine, Voit, and Champion to name a few.
We hope GameTime Athletics can be your one stop destination for all things sports too. We encourage you to explore our website and read more
about us
or see some of our
recent projects
. If you'd like to talk to one of our equipment specialists, give us a call at 877-891-2476 or
message us here
.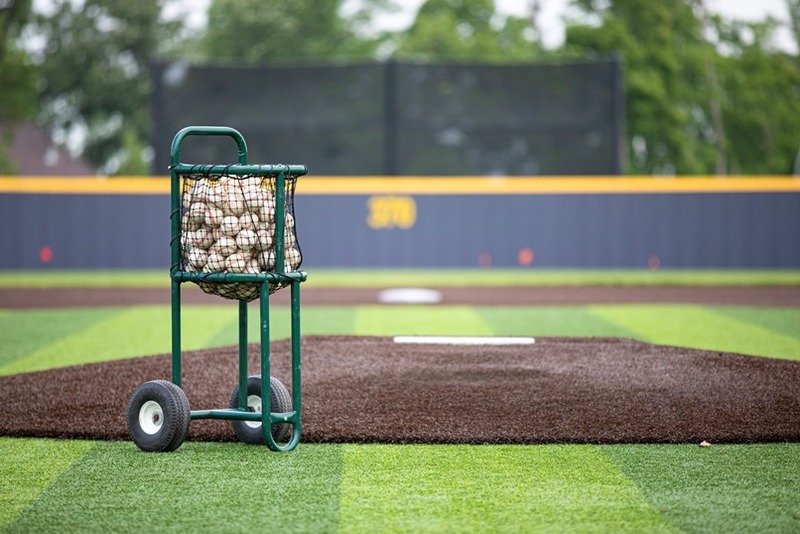 How Can We Help?