All Star Football Goalpost
Serving Kansas City & the Continental United States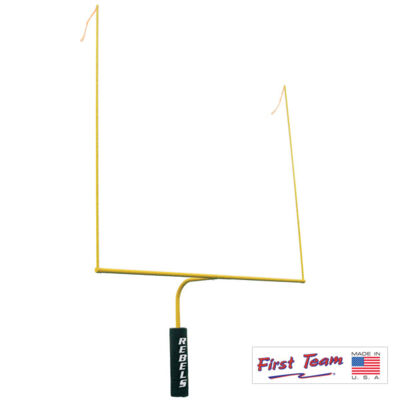 Features & Specs
All Star Football Goalpost Specs

:

Post Diameter: 4 1/2" Steel
Crossbar Diameter: 4 1/2" Aluminum
Upright Diameter: 2 3/8" Aluminum
Goal Post Height: 20' Uprights
Adjustable Overhang: 6' to 6'6"
Crossbar Height: 10'
All Star High School Crossbar Length: 23' 4"
All Star College Crossbar Length: 18' 6"



All Star Football Goalpost Features

:

Uses: Football
Color: Safety Yellow Powder Coat Finish
Post Material: Steel
Upright Material: Rust Free Aluminum
Features 48" Bury Post Ground Sleeve
Features Easily Adjustable Uprights
Features 10' Height Crossbar
Includes Optional Post Pad with Free Lettering

Includes Wind Directional Streamers
Made in the USA
Includes a 10-Year Limited Warranty

All Star Football Goalpost Details
GameTime Athletics, a nationally approved First Team authorized distributor, offers the top-of-the-line First Team All Star Football Goalposts, designed to meet the high standards of both high school and college football fields.
These goalposts combine impressive specs with a range of outstanding features, making them a winning choice for any football facility. The All Star Football Goalpost boasts a robust construction, with a 4 1/2" steel post diameter and a 4 1/2" aluminum crossbar diameter. The 2 3/8" aluminum uprights provide stability, ensuring these goalposts can withstand the test of time.
The All Star Football Goalposts include 20' uprights and offer a range of overhang options from 6' to 6'6". With a 10' crossbar height that accommodates both high school and college football needs, the All Star goalposts can be ordered with the following crossbar lengths. For high schools, the crossbar length is 23' 4", while for colleges, it's 18' 6".
These goalposts are not only durable but also visually striking with a safety yellow powder coat finish. The steel posts and rust-free aluminum uprights, coupled with a 48" bury post ground sleeve, and are built to resist the elements for years to come.
The adjustable uprights make it easy to fine-tune your setup and include features like a post pad with free lettering, wind directional streamers, and a "Made in the USA" stamp. Plus, the All Star Football Goalposts come with a 10-Year Limited Warranty, ensuring long-term peace of mind that your school has made the right purchase choice.
FOOTBALL FIELD EQUIPMENT SPECIALISTS - GAMETIME ATHLETICS
To order or to receive a dealer direct pricing quote from our team, simply click the "Add to Quote" button above and one of our specialists will quickly respond to your inquiry within 24 business hours. GameTime Athletics looks forward to setting up your football field for success!
Dealer Direct Lowest Pricing
24 Hour Weekly Response Time
FREE Shipping!
You may add this item along with other products before proceeding to your free quote.