All Steel Drag Mat
Serving Kansas City & the Continental United States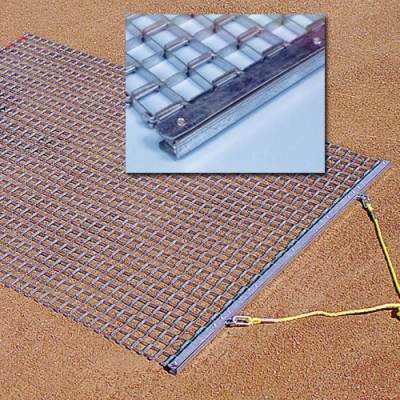 Features & Specs



All Steel Drag Mat Models:

3'W X 4'L – Weight: 23 lbs.

3'W X 5'L – Weight: 28 lbs.

6'W X 3'L – Weight: 38 lbs.

6'W X 6'L – Weight: 64 lbs.

10'W X 6'L – Weight: 97 lbs.




All Steel Drag Mat Features:

Material: Galvanized Steel

1 Color Option: Silver

Comes with Drag Bar and Pull Rope

3/8" x .050 Lattice-Style Mesh Steel Design



All Steel Drag Mat Details
If you are looking to take good care of the dirt for your baseball field diamonds and ensure safe and level playing conditions for all who round the bases, look no further than the
All-Steel Drag Mats by Athletic Connection
.
Constructed with galvanized steel, this drag mat helps ball fields look like the major leagues with a finished project that is sure to impress all who come to watch or play ball. Leveling the dirt on your baseball and softball diamonds is important and ensures playing surfaces stay level year after year.
Perfect for general grooming and maintenance, the All-Steel Drag Mat uses a small mesh square design that helps take out the bumps in a field, all of which can hinder a player moving around the base path cleanly.
To apply, simply hook up the drag mat to any type of lawn equipment or ATV and start the dragging process in areas like batter boxes, pitcher mounds and home plate, anywhere there is dirt. A long drag bar supports the integrity of the mat so that the front stays down, creating a level drag every time.

WORKING WITH GAMETIME HAS NEVER BEEN EASIER
GameTime Athletics is a proud distributor of Athletic Connection Drag Mats and is an approved vendor for school sports, recreation sports, and competitive baseball and softball leagues across the United States.

To order, simply click the size you'd like and then click the "Add to Quote" button and one of our specialists will call to help you choose the right drag mat for your ball field needs while also sharing any updated discounted pricing options.

To learn more about GameTime Athletics, we encourage you to browse our website to read our unique story and see some of our more recent projects. We look forward to speaking with you! Give us a call at 877-891-2476 or email us here today for any field or sports equipment related questions.

Dealer Direct Lowest Pricing
24 Hour Weekly Response Time
FREE Shipping!
You may add this item along with other products before proceeding to your free quote.