Bulldog Elite 2 Wheel Pitching Machine
Serving Kansas City & the Continental United States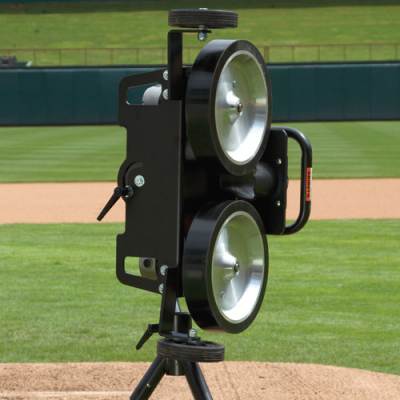 Features & Specs
Bulldog Elite 2 Wheel Pitching Machine Specs:

Maximum Speed: 102 mph
Minimum Speed: 30 mph
Product Weight: 95 lbs.



Bulldog Elite 2 Wheel Pitching Machine Features:

Machines Available in Both Baseball and Softball
Color: Black
Compatibility: Best Suited for Dimple Training Balls
Throws Curves, Fastballs, Sliders, Knuckleballs and Sinkers
Can Throw Pop-Ups and Grounders
Urethane Wheels to Eliminate Air Pressure Problems
Includes Attached Wheels for Push Transport/Storage

Bulldog Elite 2 Wheel Pitching Machine Details
Unleash the power of advanced pitching training with the BSN Sports Bulldog Elite 2 Wheel Pitching Machine, available through GameTime Athletics, a nationwide approved BSN Sports distributor. This top-of-the-line pitching machine is a game-changer for baseball and softball players seeking to elevate their skills to new heights.
The BSN Sports Bulldog Elite 2 Wheel Pitching Machine offers an impressive speed range, featuring a minimum speed of 30 mph, perfect for beginners and skill-building, and an astonishing maximum speed of 102 mph, catering to even the most experienced players. With this extensive speed range, players can adapt their training to match any skill level or game scenario.
Versatility is at the heart of the BSN Sports Bulldog Elite 2 Wheel Pitching Machine. Capable of throwing curveballs, fastballs, sinkers, sliders, and knuckleballs, this pitching machine emulates real-game situations, allowing players to refine their techniques and master different pitch types.
In addition, the pitching machine is designed to be used with dimple training balls and can be set to disperse pitches for pop-up fly balls as well as grounders to help your fielders train alongside the batter getting reps in.
The BSN Bulldog Elite 2 Wheel Pitching Machine comes in both a softball and baseball model and serves as the premier pitching machine on the market today. With its user-friendly controls and adjustable settings, coaches and players can customize their training sessions to focus on specific skill development and gameplay scenarios while its transportable wheels allow for easy moving and storage.
GAMETIME ATHLETICS - HELPING BALL PLAYERS EVOLVE SINCE 2000
Since 2000, GameTime Athletics has been a go to athletic equipment and field maintenance specialist for ball players, coaches, and facility managers. Whether you are preparing ball fields, training your players, or playing the game, if it's in the game, you'll find it at GameTime.
To order or receive a dealer direct pricing quote on this incredible pitching machine, simply click the "Add to Quote" button above and one of our associates will respond within 24 business hours. We, at GameTime Athletics, look forward to helping you plan, prepare, and play Americas pastime!
Dealer Direct Lowest Pricing
24 Hour Weekly Response Time
FREE Shipping!
You may add this item along with other products before proceeding to your free quote.