Indoor/Outdoor Tabeltop Scoreboard
Serving Kansas City & the Continental United States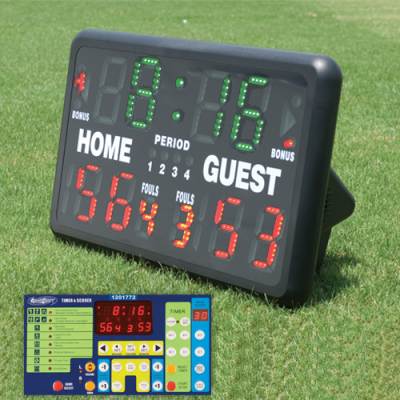 Features & Specs
Indoor/Outdoor Tabletop Scoreboard System Specs:

Dimensions: 16"H x 24"W x 10"D
Weight: 24 lbs.
Optional Stand Assembly: 43"H x 28"W x 28"D



Indoor/Outdoor Tabletop Scoreboard System Features:

Uses: Indoor and Outdoor Scoring System
Display Type: Dual LED Setting for Indoor and Outdoor Use
Scoreboard Color: Black
Functions as Scoreboard, Clock, Alarm, and Timer
Scores Periods, Bonuses, Team Fouls, and Possession
Scoreboard Includes 3 Digits per Team
Includes 100' Range Remote Control for Scoring Functions
Portable with Battery-Powered Power Source (6 Hours)
Includes AC/DC Power Cord and Adaptor
Optional Add-Ons: Wheeled Stand, Loud Horn, & Carry Bag
Indoor/Outdoor Tabeltop Scoreboard Details
GameTime Athletics, an authorized nationwide distributor of Athletic Connection, brings you the highly versatile Indoor/Outdoor Tabletop Scoreboard System. This scoreboard system is designed to meet the needs of both indoor and outdoor sporting events, making it a perfect addition to any athletic setting competition.
The Indoor/Outdoor Tabletop Scoreboard System is built to withstand various weather conditions, ensuring durability and reliability during outdoor games. Its sturdy construction and weather-resistant features make it suitable for sports like soccer, baseball, volleyball, and football, where scorekeeping is crucial.
With its LED dual setting for indoor and outdoor lighting display, coaches, players, and spectators can easily keep track of the score, game time, and other important statistics. The Indoor/Outdoor Tabletop Scoreboard System comes complete with a remote-control operation for scorekeeping and boasts a 16"H x 24"W x 10"D dimension.
Its compact design and portable nature allow it to be placed conveniently on any tabletop, providing clear visibility to all participants and onlookers. The system features a vibrant light display that is easy to read from a distance, ensuring that everyone stays informed and engaged throughout the game.
The Indoor/Outdoor Tabletop Scoreboard System is an all-in-one solution, offering a variety of scoring options and features. From displaying a clock, timer, and alarm system to keeping track of periods, possession, and fouls, you can't go wrong with a scoring system like this. In addition, you can add on an extra loud horn, a wheeled stand, and a carry bag.
SCORING SYSTEMS MADE EASY THROUGH GAMETIME ATHLETICS
With GameTime Athletics as the authorized distributor, you can trust in the quality and authenticity of the Indoor/Outdoor Tabletop Scoreboard System by Athletic Connection. Whether it's an indoor match or an outdoor tournament, this scoreboard system is a reliable companion that enhances the sporting experience for all involved.
Want to learn more about GameTime Athletics? Visit our
history page
and see some of our
recently completed projects
. If you have questions about the Indoor/Outdoor Tabletop Scoreboard System by Athletic Connection, we encourage you to reach out and speak with our specialists. You can reach us at 877-891-2476 or you may
message us here directly
.
To receive a dealer direct pricing quote, simply click the "Add to Quote" button above and a team member will respond shortly within 24 business hours. We at GameTime Athletics look forward to helping you score your next indoor or outdoor sporting event in style.
Dealer Direct Lowest Pricing
24 Hour Weekly Response Time
FREE Shipping!
You may add this item along with other products before proceeding to your free quote.