Pro Down Football Pylons
Serving Kansas City & the Continental United States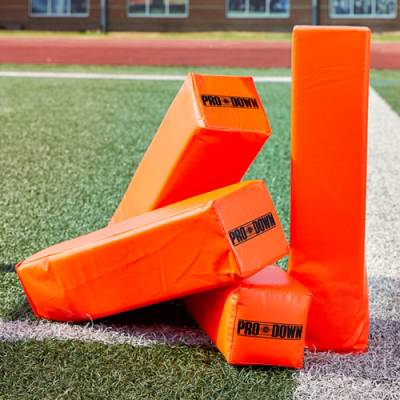 Features & Specs
Pro Down Pylon Specs:

Pylon Height: 18"
Pylon Width: 4"
Pylon Depth: 4"



Pro Down Pylon Features:

Uses: Football Field Endzones and Physical Education
Material: Safe Foam Filled and Vinyl Exterior
Padded: Yes
Quantity: Set of 4 Pylons Per Order
Color: Bright, Fluorescent Orange
Features Weather Resistant Material
Features Weighted Bottom - No Anchors Necessary
Includes 1-Year Warranty
Pro Down Football Pylons Details
GameTime Athletics, a leading nationwide sporting goods and field equipment specialist, proudly offers the Pro Down Football Pylons – an essential addition to any football field or physical education sports program. These fluorescent orange pylons come in sets of four, and their standout color ensures maximum visibility on the field.
Measuring 18 inches in height, with a width and depth of 4 inches, these pylons are designed to clearly mark the endzone of a football field or establish boundaries in other sports related activities. Their weighted bottom keeps them securely upright even in adverse weather conditions, making them an ideal choice for football fields across the country.
The Pro Down Football Pylons are not only durable but also safe, thanks to their construction. They are crafted with a foam filler and weather-resistant vinyl exterior, providing both cushioning and longevity for years to come. This combination ensures that these pylons can withstand the rigors of intense gameplay while remaining reliable over time.
GET YOUR FOOTBALL FIELD EQUIPMENT AT GAMETIME ATHLETICS
Whether you're organizing a youth or high school football field, the Pro Down Football Pylons from GameTime Athletics are an indispensable asset for your program. Since 2000, GameTime Athletics has been serving a wide
variety of sports industries
with premium athletic field equipment.
We encourage you to learn more
about GameTime
by visiting
our history page
and seeing some of our
recent projects
. If you have questions regarding the Pro Down Football Pylons or any other football field equipment, give our team a call at 877-891-2476.
To order or to receive dealer direct pricing on the Pro Down Football Pylons, simply click the "Add to Quote" button and one of our representatives will respond to your inquiry withing 24 business hours.
Dealer Direct Lowest Pricing
24 Hour Weekly Response Time
FREE Shipping!
You may add this item along with other products before proceeding to your free quote.