PRO-Tector Full Infield Cover
Serving Kansas City & the Continental United States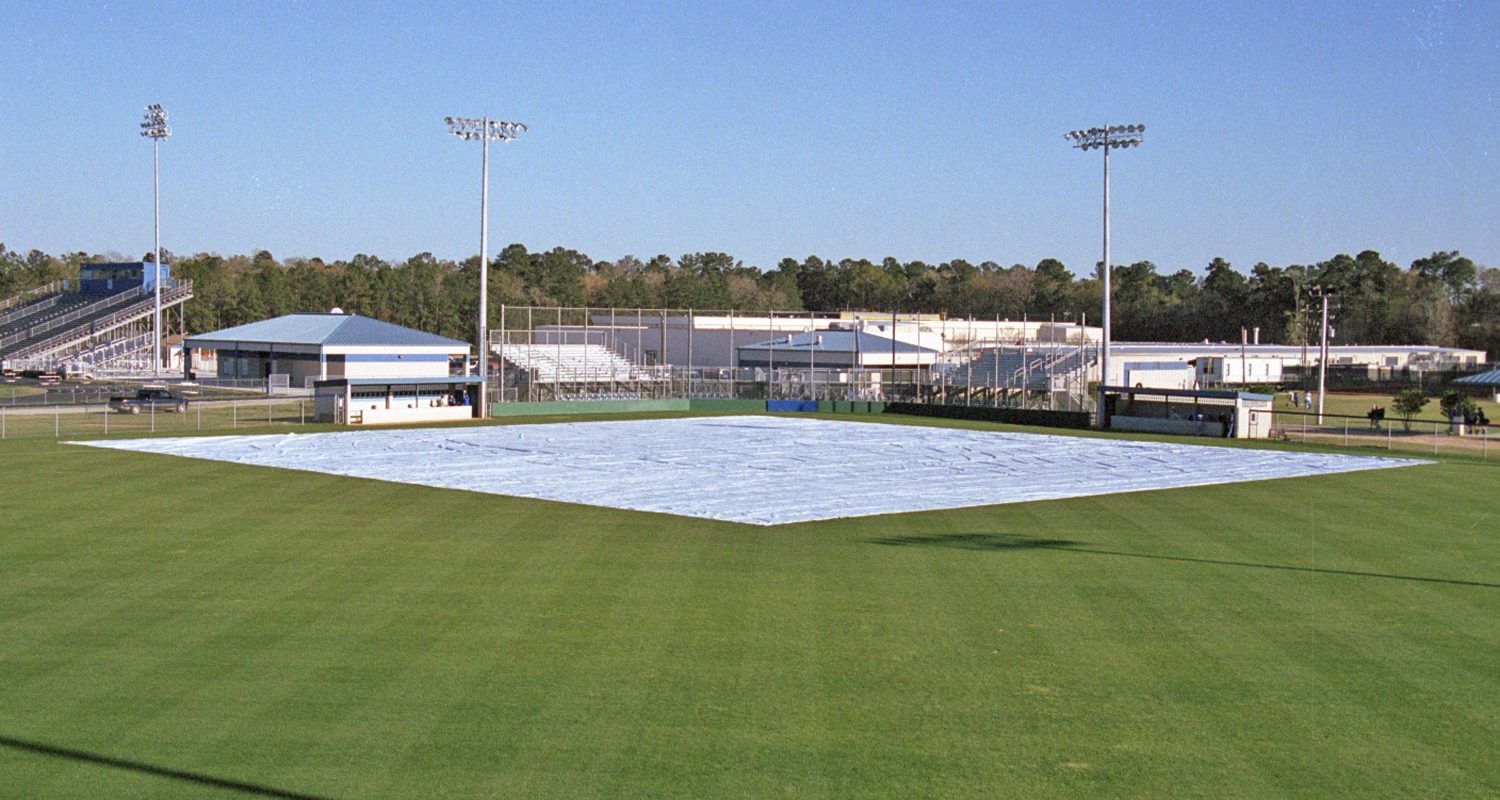 Features & Specs
PRO-Tector Full Infield Cover Size Options:

Dimensions: 90' x 90'
Dimensions: 120' x 120'
Dimensions: 160' x 160'
Dimensions: 170' x 170'
Additional Customized Dimensions Available




PRO-Tector Full Infield Cover Features:

Uses: Baseball and Softball Fields
Includes Brass Grommets every 10' Plus All Corners
Includes 2" Seatbelt Webbing Handles every 10'
Grass and Artificial Turf Protection
Customized Imprinting Available
3 Fabric Options:
6.0 oz/sq. yd. 12 mill - White/Silver
6.8 oz/sq. yd. 14 mill - White/Black
7.5 oz/sq. yd. 16 mill - White/Blue
PRO-Tector Full Infield Cover Details
The Aer-Flo Sports PRO-Tector Full Infield Baseball and Softball Field Cover, offered by GameTime Athletics, stands as a premier choice for professional-grade infield protection. Designed to shield the infield surface from adverse weather conditions, this high-quality tarp ensures optimal performance and longevity no matter the customized size you choose.
Constructed with durable and weather-resistant materials, the Aer-Flo Sports PRO-Tector Full Infield Cover provides an impenetrable barrier against rain, snow, and other elements that could potentially damage the playing surface that has been prepared before a game. Its robust design includes reinforced edges and heavy-duty stitching, guaranteeing exceptional strength and durability.
What sets the Aer-Flo Sports PRO-Tector apart is its ability to be customized with team branding and imprinting. GameTime Athletics understands the significance of team pride and offers the option to personalize these infield covers, allowing teams to showcase their logos and team branding elements. This customization not only enhances aesthetics but also reinforces team spirit and identity.
The Aer-Flo PRO-Tector Full Infield Cover offers a 90' x 90', 120' x 120', 160' x 160' and a 170' x 170' square tarp options. The tarps can also be customized if you prefer to cover your entire field or just sections of it. With brass grommets on every corner and spaced every 10 ft. apart, it's easy to install and retrieve while staying secure when in use.
PROTECTING BASEBALL AND SOFTBALL FIELDS SINCE 2000
GameTime Athletics, a reputable nationwide distributor of Aer-Flo products, proudly offers this state-of-the-art infield cover to sports teams and organizations across the country. Whether you are a coach looking to protect your ball field or a facility manager who needs to stay on top of field conditions and approaching weather, you can't go wrong with infield covers like these made by Aer-Flo.
We encourage you to learn more
about GameTime Athletics
by seeing
our history
page and viewing some of our more
recent projects
that we have been working on. If you'd like to ask us questions about field equipment like the PRO-Tector Full Infield Cover or any other equipment we specialize in, give us a call at 877-891-2476 or feel free to
message us here
.
To receive a custom quote, complete with dealer direct pricing, simply click the "Add to Quote" button above and one of our team specialists will promptly respond to your inquiry. We, at Gametime Athletics look forward to helping you protect your baseball and softball diamonds.
Dealer Direct Lowest Pricing
24 Hour Weekly Response Time
FREE Shipping!
You may add this item along with other products before proceeding to your free quote.