Umpire Gear Kit Pack
Serving Kansas City & the Continental United States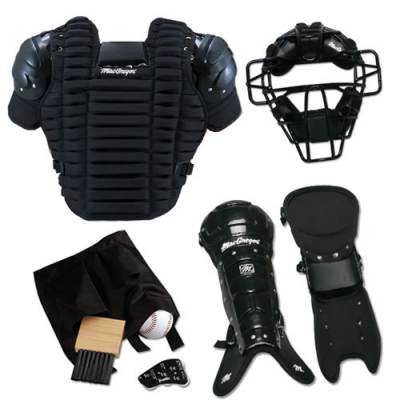 Features & Specs
Umpire Gear Kit Pack Includes:

MacGregor MCB79 Chest Protector
MacGregor MCB67 Leg Guards

MacGregor B29 Pro Mask
Light Tubular and Hollow Steel Frame
Extended Ear and Throat Guard
Ball Bag for Extra Balls
Four-Way Indicator - Records Strikes, Balls, Outs and Innings
Plate Brush to Sweep Home Plate
Color Options: Black
Product Manufacturer: MacGregor
Umpire Gear Kit Pack Details
GameTime Athletics, as an authorized dealer for MacGregor products, offers the highly acclaimed MacGregor Umpire Gear Kit Pack. This comprehensive gear pack equips umpires with everything they need for optimal performance on the field. Included in the pack are the MacGregor B29 Pro Series Mask, the MCB79 Chest Protector, the MCB67 Leg Guards, and additional essential accessories.
The MacGregor B29 Pro Series Mask is a standout feature of the gear pack. It provides umpires with excellent visibility and protection. Its durable construction and comfortable padding ensure reliability and a secure fit throughout the game. The mask is extremely lightweight and has a hollow tubular construction that protects the throat, neck and ears.
The MCB79 Chest Protector is designed to offer maximum coverage and impact absorption. With adjustable straps, umpires can customize the fit for added comfort and security. This chest protector is built to withstand the demands of the game while providing the necessary protection for umpires.
The MCB67 Leg Guards deliver exceptional leg protection without sacrificing mobility. Featuring strong and durable materials, these leg guards offer reliable defense against foul balls and collisions. Umpires can confidently move around the field knowing their legs are well-protected.
In addition to the protective gear, the package kit includes a ball bag, a plate brush, and a four-way indicator. The ball bag allows umpires to conveniently carry and access baseballs, while the plate brush helps maintain a clean home plate. The four-way indicator is a versatile tool used to record balls, strikes, outs, and innings.
GET YOUR UMPIRE GEAR THROUGH GAMETIME ATHLETICS
As an authorized dealer for MacGregor and other well known baseball and softball equipment manufacturers, GameTime Athletics has you covered if your looking to protect yourself behind the plate.
Whether you are a coach, a player, an umpire, or a high school or college athletic program, if it's in the game, it's at GameTime. Let GameTime Athletics help you protect the athletes who are on the field with premier athletic equipment.
Since 2000, GameTime Athletics has been a sports and field maintenance equipment provider across the nation. We encourage you to learn more
about us
, and see some of our
recent projects
. To receive a dealer direct pricing quote on the MacGregor Umpire Gear Kit Pack, simply click the "Add to Quote" button above or feel free to give us a call at 877-891-2476. You may also
message us here
.
Dealer Direct Lowest Pricing
24 Hour Weekly Response Time
FREE Shipping!
You may add this item along with other products before proceeding to your free quote.