Water Cooler Cart
Serving Kansas City & the Continental United States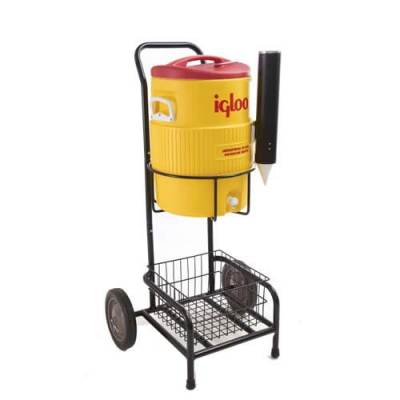 Features & Specs
Water Cooler Cart Specs

:

Product Height: 49 in.
Product Length: 22 in.
Product Width: 26 in.
Product Depth: 22 in.
Product Weight: 30 lbs.





Water Cooler Cart Features

:

Uses: All Sports, Recreational Play and Physical Education
Color: Black
Material: Black Powdercoat Steel Frame
Frame Accomodates Most Water Coolers up to 10 Gallons
Includes 2 - 10" Semi-Pneumatic Wheels for Transportation
Can be Used for Both Indoor and Outdoor Use
Features One Carry Handle for Easy Manueverability
Features a Removable Wire Basket for Supplies
Features Front Feet Rubber Bottoms for Stability
Cup Dispenser and Cooler Sold Separtely
Includes 1-Year Warranty

Water Cooler Cart Details
The Water Cooler Cart, available at GameTime Athletics, stands as a versatile solution for hydration needs in various sporting and recreational settings. With a thoughtful design and sturdy construction, this cart is an excellent addition to any sports facility or sports program whether your sport is played indoors or outside.
Measuring 49 inches in height, 22 inches in length, 26 inches in width, and having a product depth of 22 inches, this Water Cooler Cart strikes a perfect balance between portability and stability. Weighing just 30 pounds, it's easy to move and transport.
Constructed from durable black powder-coated steel, the frame accommodates most water coolers up to 10 gallons, ensuring that players, athletes, and participants have access to refreshment during practices, games, or physical education sessions.
The cart features two 10-inch semi-pneumatic wheels, making transportation effortless, whether indoors or outdoors. One convenient carry handle adds to its maneuverability, while a removable wire basket provides storage space for essential supplies.
To ensure stability, the Water Cooler Cart includes front feet with rubber bottoms. This cart can be used in a wide variety of sports, recreational play, and physical education settings including football, basketball, soccer, tennis, baseball, softball, track and volleyball.
KEEPING ATHLETES HYDRATED ONE SPORT AT A TIME - GAMETIME ATHLETICS
Gametime Athletics has been furnishing a
variety of sports industries
with everything they need to plan, prepare and play their respective sports. Whether you are a coach, a player, an athletic department or a recreational center, GameTime Athletics has you covered.
Since 2000, GameTime Athletics has been a go to leader for sports equipment and field maintenance solutions across the United States. We encourage you to learn more
about us
by visiting our
recent projects
and reading about our
unique story
. If you have questions about The Water Cooler Cart or other miscellaneous sports equipment needs, give us a call at 877-891-2476 or
message us today
.
To order or to receive a dealer direct pricing quote on The Water Cooler Cart, simply click the quantity of cooler systems you need and the "Add to Quote" button above. One of our representatives will promptly respond to your inquiry within 24 business hours.
Dealer Direct Lowest Pricing
24 Hour Weekly Response Time
FREE Shipping!
You may add this item along with other products before proceeding to your free quote.