10 Row Standard/Preferred Portable Bleachers
Serving Kansas City & the Continental United States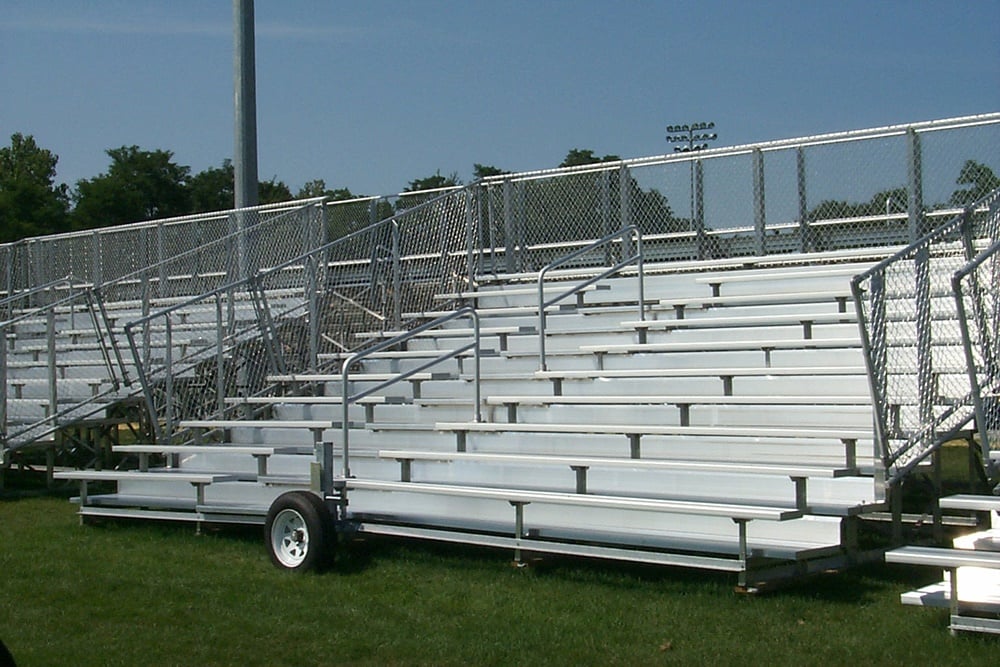 Features & Specs
10 Row Standard/Preferred Portable Bleacher Features:

Available with 5 or 10 Rows
Available in Standard, Preferred and Deluxe Models
Seat Planks: 2 x 10 Anodized Aluminum
Foot Planks: (1) 2 x 10 Aluminum Mill Finish Rows 2-3
Foot Planks: (2) 2 x 10 Aluminum Mill Finish Rows 4-10
1 x 6 Riser Rows 4-9, (2) 1 x 6 Top Row Risers
2 x 6 Treated Lumber Groundsills
Chain-Link Guardrail System Rows 3-10
Features Additional Bracing for Transportation
Transport Kit Sold Separately - View Link



10 Row Standard/Preferred Portable Bleacher Model Specs:

1015TPSTD: 15' Length, Seats 100 at 2,106 lbs. Spec Sheet
1021TPSTD: 21' Length, Seats 140 at 2,992 lbs. Spec Sheet
1024TPSTD: 24' Length, Seats 160 at 3,198 lbs. Spec Sheet


10 Row Standard/Preferred Portable Bleachers Details
GameTime Athletics, an authorized distributor for National Recreation Systems, offers the 10 Row Standard and Preferred Portable Aluminum Bleachers, providing a versatile and efficient seating solution for large outdoor events. These bleachers are specifically designed to accommodate a substantial number of spectators while keeping safety and comfort at the forefront.
Constructed from high-quality aluminum, the 10 Row Standard and Preferred Portable Aluminum Bleachers ensure durability and longevity. The aluminum material is lightweight yet robust, allowing for easy transport and installation without compromising structural integrity. Additionally, the aluminum construction ensures resistance to rust and corrosion, making these bleachers suitable for long-term outdoor use in the harshest of environments.
With ten rows of seating, and available in 15', 21' and 24' lengths, these bleachers provide ample space for a significant audience, ensuring an enjoyable viewing experience for everyone. The seating arrangement is strategically designed to provide optimal sightlines, allowing spectators to have clear views of the event or game.
Whether you need a bleacher system for a football, baseball, or a soccer match, the 10 Row Bleacher system is versatile and can seat 100, 140, and 160 people based upon the model length you choose.
LET GAMETIME ATHLETICS HELP YOU CHOOSE THE RIGHT BLEACHERS
As an approved distributor for National Recreation Systems, GameTime Athletics ensures customers have access to these high-quality bleachers and can help you choose the right model for your sporting events.
If you have any questions about our 10 Row Portable Bleachers or any other equipment-related inquiries, we are here to assist you. Feel free to contact us at 877-891-2476 or
send us a message
through the provided form.
Whether you need a single or multiple set of bleachers, our process is simple. Just click on the "Add to Quote" button above, and one of our dedicated team specialists will promptly connect with you. They will ensure you receive the best dealer direct pricing available, tailored to your specific requirements.
Dealer Direct Lowest Pricing
24 Hour Weekly Response Time
FREE Shipping!
You may add this item along with other products before proceeding to your free quote.