3 Row Standard/Preferred Bleachers
Serving Kansas City & the Continental United States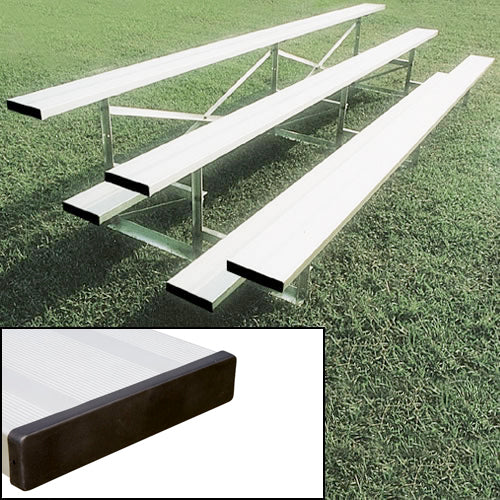 Features & Specs
3 Row Standard/Preferred Aluminum Bleacher Features:

Available with 3, 5, 8 and 10 Row Options
Available in Standard, Preferred and Deluxe Models
First Seat at 17" Height
Foot Planks: Preferred (2) Standard (1) 2" x 20" Anodized

Seat Planks: 2" x 10" Mill Finish Plank
Aluminum Angle Construction
Powder Coating Optional




3 Row Standard Aluminum Bleacher Models and Specs:
3 Row Standard/Preferred Bleachers Details
GameTime Athletics, a preferred distributor for National Recreation Systems, proudly offers the National Recreation Systems 3 Row Standard and Preferred Aluminum Bleachers. These bleachers are designed to provide comfortable seating and a safe viewing experience for spectators at various recreational events and venues, both indoors and outdoors.
These 3 Row Standard and Preferred Aluminum Bleachers are constructed with high-quality aluminum materials, ensuring durability and longevity. They are designed to withstand the outdoor elements while maintaining structural integrity and stability. With a sturdy frame and secure seating, these bleachers provide a safe and reliable seating solution for a multitude of sports including baseball, softball, soccer, football, tennis, volleyball and basketball.
GameTime Athletics recognizes the importance of simplicity, and the National Recreation Systems 3 Row Standard and Preferred Aluminum Bleachers deliver just that. With three rows of seating, spectators can enjoy an elevated view of the action, enhancing their overall viewing experience.
With 5 different model options to choose from for both the standard and preferred line, the 3 Row Bleachers by National Recreation Systems, can seat 15, 30, 42, 48 and 54 people and come in lengths of 7'6", 15', 21', 24', and 27'.
NATIONWIDE BLEACHER DISTRIBUTOR - GAMETIME ATHLETICS
As a preferred distributor, GameTime Athletics guarantees that the National Recreation Systems 3 Row Standard Aluminum Bleachers meet the highest standards of quality and safety.
Whether it's for
parks and recreation leagues
,
schools
,
colleges
or
competitive youth organizations
, these bleachers offer a convenient and durable seating solution for all types of recreational events. With GameTime Athletics' expertise and commitment to customer satisfaction, clients can trust in the reliable and efficient service they receive when purchasing these bleachers.
Would you like to get to know GameTime Athletics better? Visit more
about us
, read
our story
and see some of
our recent projects
. If you have some questions about the 3 Row Standard and Preferred Bleachers, or any other field equipment needs, give us a call at 877-891-2476 or
send us your inquiry here
. To order, simply click the "Add to Quote" button above and one of our specialists will provide dealer direct pricing promptly.
Dealer Direct Lowest Pricing
24 Hour Weekly Response Time
FREE Shipping!
You may add this item along with other products before proceeding to your free quote.