174 Wood Filled Home Plate
Serving Kansas City & the Continental United States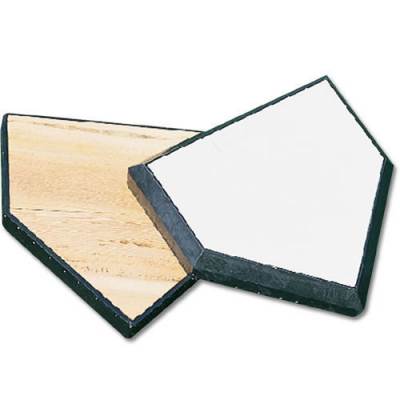 Features & Specs



174 Wood Filled Home Plate Specs:

Product Height: 3" in. - Regulation Game Play

Product Weight: 26.4 lbs.




174 Wood Filled Home Plate Features:

Product Brand: MacGregor

Bases Included: Home Plate

Color: All White with Black Edges

Material: Solid Wood Filling

Uses: Baseball and Softball Fields

Black Beveled Edges and Sides to Reduce Injuries









174 Wood Filled Home Plate Details
At GameTime Athletics, we understand the importance of high-quality baseball and softball home plates, which is why we're proud to offer the MacGregor 174 Wood Filled Home Plate. This MacGregor home plate is built to last, with a durable construction that can withstand the toughest of playing conditions, providing your team with reliable, safe playing surfaces everytime.

One of the key features of the Macgregor 174 home plate is its wood-filled construction. This not only gives it a traditional look and feel, but also adds an extra layer of durability and strength. The wood filling also helps to absorb shock and reduce wear and tear, ensuring that your home plate stays in top condition for longer.

Another important feature of the Macgregor 174 home plate is its regulation size and shape. The black beveled edges and sides ensure that your players have a consistent and fair playing surface, helping prevent injuries caused by irregular or poorly designed home plates.

Additionally, the Macgregor 174 Wood Filled Home Plate is designed for easy installation and maintenance. Its simple design and sturdy construction make it easy to install on any field, and its durable materials can withstand the elements of regular use without showing signs of wear and tear.

SIMPLIFIED ORDERING WITH GAMETIME ATHLETICS

GameTime Athletics is your ultimate destination for all ball-related needs. Regardless of your location in the United States, we help teams, athletes, coaches, and maintenance crews with top-quality equipment to play and maintain fields to the highest of standards.

Whether you are part of a School District, University, Church, Parks and Recreation League, or a Competitive Sports Organization, GameTime Athletics is dedicated to helping your team get the right accessories.

Click if you'd like to learn more about us, read about our history or view some of our recent projects. For any questions regarding our MacGregor 174 Wood Filled Home Plates, or other sports equipment and field maintenance needs, feel free to get in touch with us via message or call us at 877-891-2476.

If you'd like to see the latests discounted pricing options for this home plate, simply click on the "Add to Quote" button and one of our team members will connect with you soon.

Dealer Direct Lowest Pricing
24 Hour Weekly Response Time
FREE Shipping!
You may add this item along with other products before proceeding to your free quote.