In-Ground Home Plate
Serving Kansas City & the Continental United States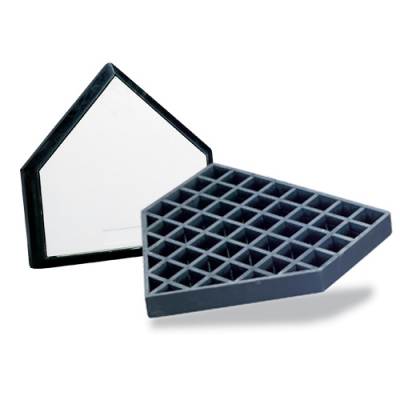 Features & Specs



In-Ground Home Plate Specs:

12"L X 9"W X 5"H

Weight: 24.2 lbs.




In-Ground Home Plate Features:

Design: Waffle Style

Product Brand: MacGregor

Bases Included: Home Plate

Material: Rubber Construction

Color: All White with Black Edges

Weather Resistant and Waterproof

In-Ground Design Holds Plate in Place

Non-Skid Surface Design Prevents Injuries



In-Ground Home Plate Details
The MacGregor Waffle Style In-Ground Home Plate is an essential accessory for any baseball or softball field. This high-quality home plate is designed with durability and performance in mind, ensuring that players can rely on it for multiple seasons to come.

One of the key features of the MacGregor Waffle Style In-Ground Home Plate is its rubber waffle-style construction. The waffle design provides added grip and stability for the plate as players slide into home. With a non-skid smooth playing surface on the other side, this home plate reduces the risk of injury. The waffle pattern also helps prevent dirt and debris from building up on the plate, keeping it clean and easy to maintain.
Another important aspect of the MacGregor Waffle Style In-Ground Home Plate is its in-ground installation. Providing a secure and stable foundation for the plate, the installation process ensures that it won't move or shift during gameplay. The home plate comes with all the necessary hardware and instructions for quick and simple setup.
The plate is constructed with heavy-duty materials, including high-density rubber and steel reinforcement, and can withstand the rigors of constant use. If you are looking for a reliable, high-performance home plate, this one is tough to beat.
Ordering In-Ground Home Plates with GameTime Athletics

GameTime Athletics is the ultimate source for all your ball related needs and is one of the leading distributors of top name brand sports equipment in the United States, including MacGregor.
We cater to ball teams, athletes, coaches, and maintenance crews across the nation by providing the players top-quality equipment to play with and grounds crew members the right tools to maintain their fields properly so that their set to the highest of standards.
Whether you are a School District, University, Church, Parks and Recreation league, or a Compeitive Sports organization, GameTime
strives to provide everything one needs to elevate the game.
We invite you to explore more
about us
and see some of our
recent projects
. For questions about the MacGregor Waffle Style In-Ground Home Plates, or if we can help you in another way, please
message us
or give us a call at 877-891-2476.
To place an order, simply click the "Add to Quote" button, and one of our team members will connect with you soon to provide you the latest discounted pricing options for this home plate.
Dealer Direct Lowest Pricing
24 Hour Weekly Response Time
FREE Shipping!
You may add this item along with other products before proceeding to your free quote.