50 lb. All Steel Dry Line Marker
Serving Kansas City & the Continental United States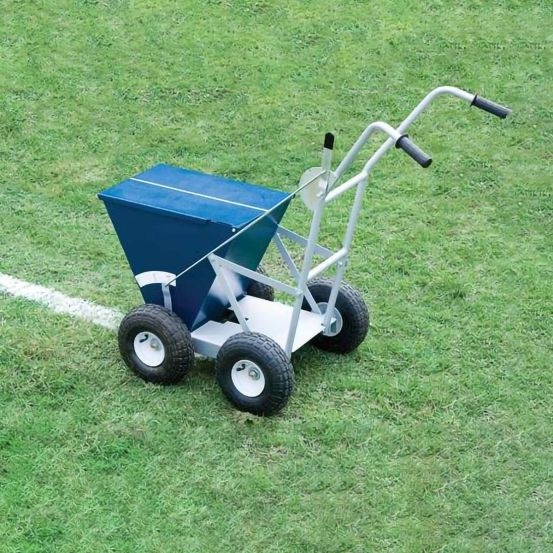 Features & Specs
50 lb. All-Steel Dry Line Chalk Marker Specs:

Product Weight: 60 lbs.
Product Dimensions: 48" L x 36" W x 24" H
Maximum Spray Line Width: 4" in.
Minimum Spray Line Width: 2" in.
Wheel Diameter: 10" in.
Tire Dimensions: 3.5" W x 10" D



50 lb. All-Steel Dry Line Chalk Marker Features:

Product Manufacturer: Alumagoal
Main Color: Blue with Silver and Black
Material: 11 Guage All Steel Frame
Number of Wheels: 4
Sidelines, Hash Lines, Boundaries and Goal Lines
Uses: Football, Soccer, Baseball, Softball, and Lacrosse

50 lb. All Steel Dry Line Marker Details
Introducing the Alumagoal 50 lb. All-Steel Dry Line Markers, a high-performance solution designed for professional field marking in outdoor sports such as football, soccer, softball, and baseball. These markers guarantee clean, precise, and highly visible lines, benefiting both athletes and spectators.
Crafted with a sturdy steel frame, these dry line markers ensure long-lasting durability in all weather conditions. The frame is powder-coated, adding an extra layer of protection against rust and corrosion while facilitating effortless cleaning and maintenance.
Perfectly suited for smaller fields or tight spaces, the 50 lb. markers feature a heavy-duty hand crank that allows you to control the flow of marking material, ensuring consistent discharge of chalk every time.
The Alumagoal dry line markers accommodate chalk marking materials and ensures an even line. The markers' hopper design boasts a 50 lb. capacity, simplifying the process of filling and emptying, ultimately saving you time and reducing the need for frequent refills.
For reliable and robust sports field maintenance, look no further than the Steel Dry Line
Chalk Markers. Offering precise and professional-quality line markings, these markers are an ideal choice for sports facilities, schools, and recreational ball fields.
FIELD MAINTENANCE SPECIALISTS - GAMETIME ATHLETICS
Experience the convenience of shopping for dry line markers at GameTime Athletics. As a nationwide distributor of renowned sports equipment brands, including Alumagoal, we cater to sports equipment and field maintenance needs throughout the United States. Whether you need to outline end zones, hash marks, goal boundaries, penalty areas, batters' boxes, or foul lines, GameTime Athletics have your field marking needs covered.
If you require assistance or have any inquiries about our All-Steel Dry Line Markers, simply click the "Add to Quote" button above, and our dedicated staff members will promptly provide you with the best available dealer direct pricing within 24 hours.
At GameTime Athletics, we take pride in offering top-quality products and exceptional customer service, ensuring that your athletic fields are always in impeccable condition. Feel free to learn more
about us
and explore our
recent projects
to gain a better understanding of our services. For direct communication, please call us at 877-891-2476 or
send us a message.
Dealer Direct Lowest Pricing
24 Hour Weekly Response Time
FREE Shipping!
You may add this item along with other products before proceeding to your free quote.