65 lb. All Steel Dry Line Marker
Serving Kansas City & the Continental United States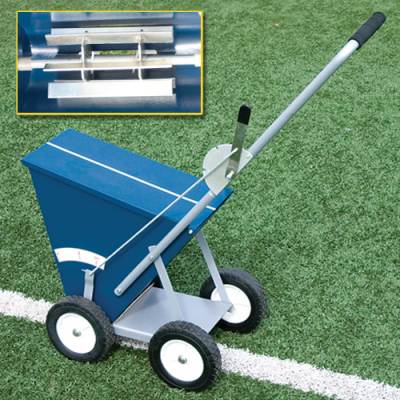 Features & Specs
65 lb. All Steel Dry Line Chalk Marker Specs:

Paint or Chalk Capacity: 65 lbs.
Maximum Spray Line Width: 4" in.
Minimum Spray Line Width: 2" in.
Wheel Diameter: 10" in.
Tire Dimensions: 3.5" W x 10" D



65 lb. All Steel Dry Line Chalk Marker Features:

Product Manufacturer: Alumagoal
Main Color: Blue with Silver, Black and White
Material: 11 Guage All Steel Frame with Rubber Wheels
Number of Wheels: 4
Uses: Hash Marks, Foul Lines, Boundaries and Goal Lines
Sports: Football, Soccer, Baseball, Softball, and LaCrosse


65 lb. All Steel Dry Line Marker Details
Introducing the 65 lb. All Steel Dry Line Marker, a reliable field marking solution manufactured by Alumagoal and proudly sold by GameTime Athletics. This professional-grade marker is designed to meet the high demands of outdoor sports fields, including football, soccer, softball, lacrosse, and baseball.
Constructed with a durable all-steel frame and 4 rubber wheels, this dry line marker ensures exceptional longevity and performance, even in challenging weather conditions. The sturdy frame provides maximum stability and resistance, allowing it to withstand rigorous use over time.
With a weight capacity of 65 lbs., this chalk marker is ideal for larger fields and areas that require extensive line marking. Its heavy-duty hand crank offers precise control over the flow of marking material, ensuring consistent and accurate chalk line markings with every use.
The Alumagoal All Steel Dry Line Marker allows for easy customization of the marking material based on your field's specific needs. With a 65 lb. capacity, this marker can hold more chalk and cover more fields. The generous hopper design simplifies the filling and emptying process, reducing downtime, and allowing you to focus more on marking your field.
MEET GAMETIME ATHLETICS, AN ALUMAGOAL DISTRIBUTOR
As a trusted distributor of Alumagoal products, GameTime Athletics takes pride in offering the 65 lb. All Steel Dry Line Chalk Marker as part of our comprehensive range of field maintenance solutions. Providing quality products and excellent customer service to ensure your athletic fields remain in top-notch condition is our game.
For any inquiries or assistance regarding GameTime Athletics field marking equipment, simply reach out to us at 877-891-2476 or
send us a message
. Click the "Add to Quote" button above for a prompt response from our team members, who will provide you with the best available dealer direct pricing.
At GameTime Athletics, we are dedicated to delivering exceptional products and ensuring your complete satisfaction. Take some time to read more about
our story
and see some of
our recent projects
. We look forward to working with you to enhance your field marking capabilities.
Dealer Direct Lowest Pricing
24 Hour Weekly Response Time
FREE Shipping!
You may add this item along with other products before proceeding to your free quote.