Pro Series Batting Tunnel Net
Serving Kansas City & the Continental United States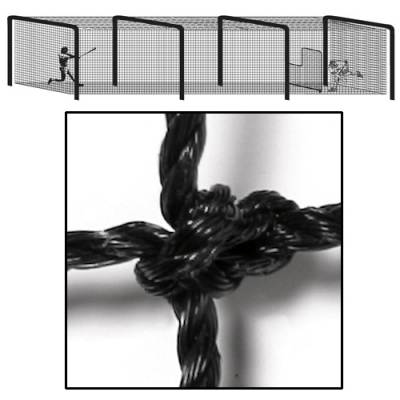 Features & Specs
Pro Series Batting Tunnel Net Specs:

Dimension Options
70'L x 14'W x 12'H
70'L x 12'W x 12'H
55'L x 14'W x 12'H
55'L x 12'W x 12'H
#42 Knotted Polyethylene Synthetic Filament Fiber
2.5mm Size, 1 3/4" Square Mesh



Pro Series Batting Tunnel Net Features:

Uses: Indoor/Outdoor Baseball and Softball
Color: Black
Features a No Sag Net System
225 lb. Breaking Strength
100% Waterproof UV Treated Net
Includes 4 Corners and Rope Around Perimeter
Rugged and Durable Net System
Black Coloring Resists Fading Permanently
Includes 1-Year Warranty


Pro Series Batting Tunnel Net Details
The Pro Series Batting Tunnels by BSN Sports, available at Gametime Athletics, represent the pinnacle of performance and functionality for baseball and softball training facilities. As an authorized nationwide BSN Sports dealer, Gametime Athletics ensures that these tunnels meet the highest standards of quality and innovation, keeping today's baseball and softball players more active in the game.
The Pro Series Batting Tunnels are available in four different dimensions, catering to various training needs and space requirements. The first option is a spacious 70 feet in length, 14 feet in width, and 12 feet in height, providing ample room for players to practice their swings and pitches effectively. The second option maintains the same length of 70 feet but offers a width of 12 feet, making it ideal for facilities with limited space while still providing a substantial training area for ball players to hone their craft.
For those seeking a slightly more compact solution, the third option measures 55 feet in length, 14 feet in width, and 12 feet in height, ensuring a focused training environment. The fourth and final option maintains the 55-foot length but features a 12-foot width, making it a versatile choice for smaller training facilities or for setting up multiple tunnels side by side.
All Pro Series Batting Tunnels are constructed with #42 twisted and knotted polyethylene synthetic filament, guaranteeing durability and resistance to wear and tear. Their sturdy design allows players to practice with confidence, knowing that the tunnel can withstand intense training sessions and powerful hits all while maintenance crews can be assured these nets can withstand the rigors of the weather with a 100% waterproof UV treated net design.
BASEBALL AND SOFTBALL TRAINING EQUIPMENT PROVIDED BY GAMETIME ATHLETICS
The Pro Series Batting Tunnels by BSN Sports, offered by Gametime Athletics, cater to the diverse needs of baseball and softball players and training facilities. With their range of dimensions and high-quality construction, these tunnels create an optimal environment for players to work on their skills and elevate their game to new heights.
GameTime Athletics has been providing baseball and softball players, coaches and facility crews with premier athletic equipment and field maintenance solutions since 2000. Here are a few of
GameTime Athletics' staple industries we serve
by supplying athletic field services and premium athletic gear for.
Simply click on the "Add to Quote" button above and one of our representatives will give you tailored and dealer direct pricing on the units you have interest in within 24 hours. We, at GameTime Athletics, look forward to helping better prepare our athletes of tomorrow.
Dealer Direct Lowest Pricing
24 Hour Weekly Response Time
FREE Shipping!
You may add this item along with other products before proceeding to your free quote.