Round Archery Target Faces
Serving Kansas City & the Continental United States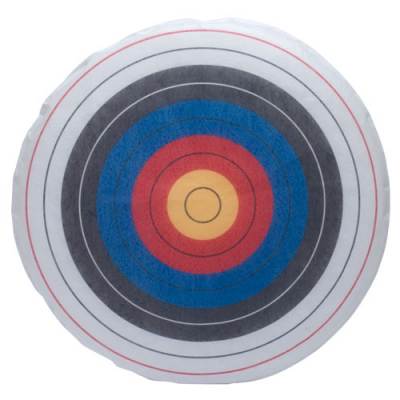 Features & Specs
Hawkeye Archery Round Target Face Specs

:




Two Size Options
48" Slip-On
36" Slip-On



Hawkeye Archery Round Target Face Features

:




Uses: Archery - School and Rec Center Programs
Material: Fibercloth
Features Waterproof Skirted Material
Fits Around a Base (Sold Separately)

Includes 1-Year Warranty




Hawkeye Archery Round Target Face Features:
Round Archery Target Faces Details
These Round Archery Target Faces by Hawkeye Archery are available through GameTime Athletics, who caters to archery enthusiasts and programs across the United States. Offering an excellent target solution for both schools and recreational centers, these target faces come in two size options: 48" and 36" slip-on, accommodating different skill levels and preferences.
Constructed from durable fibercloth, these target faces are designed to withstand the rigors of archery practice and competition. Two standout features are the waterproof skirted material that ensures they remain in top-notch condition, even in wet conditions and its overall construction. The fibercloth forces arrows to penetrate the cloth without tearing them up.
These round target faces are extremely versatile and can be easily fitted around a base (sold separately), providing a solid and stable target setup for both indoor and outdoor use. This flexibility makes them suitable for a wide range of archery programs from advanced to beginner levels.
These multi-color target faces include the following colors: yellow, red, blue, black, and white. This color diversity not only adds a visual appeal but also helps with target visibility and differentiation during practice.
ARCHERY EQUIPMENT AVAILABLE AT GAMETIME ATHLETICS
Servicing school archery programs and recreational departments across the United States, GameTime Athletics has your archery equipment needs covered. Since 2000, GameTime has helped athletes, coaches, and athletic departments plan, prepare and play sports using premium equipment made by the worlds best manufacturers.
To order or to receive a pricing quote, simply click on the number of target faces you need and then click the "Add to Quote" button. One of our representatives will connect with you to provide dealer direct pricing within 24 business hours.
Dealer Direct Lowest Pricing
24 Hour Weekly Response Time
FREE Shipping!
You may add this item along with other products before proceeding to your free quote.