Square Archery Target Faces
Serving Kansas City & the Continental United States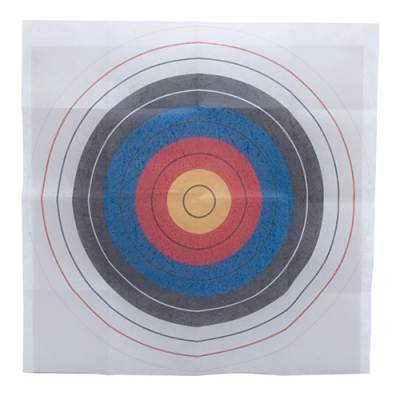 Features & Specs
Hawkeye Archery Square Target Face Specs:

Two Size Options
48" Flat
36" Flat



Hawkeye Archery Square Target Face Specs:

Uses: Archery - School and Rec Center Programs
Material: Fibercloth
Features Waterproof Non-Skirted Material
Target Bases Sold Separately
Includes 1-Year Warranty



Hawkeye Archery Square Target Face Colors:
Square Archery Target Faces Details
Hawkeye Archery's Square Archery Target Faces, offered through GameTime Athletics, are an exceptional choice for archery enthusiasts and programs alike. These target faces are designed to provide a precise and challenging target experience, aiding in the improvement of archery skills whether you are advanced or just beginning.
The Square Archery Target Faces come in two size options, a 48" and 36" face, catering to different skill levels and preferences. These targets and their multiple sizes offer the flexibility of customization, allowing archers to choose the size that best suits their training and competitive needs.
These target faces are crafted from fibercloth, a high-quality material that ensures durability and longevity. The square design offers a distinctive look, helping archers to hone their accuracy and precision using a base that the targets can easily stay attached too. With waterproof features, these target faces maintain their integrity even in wet conditions and can be used for both indoor and outdoor use.
Hawkeye Archery provides these target faces that include a variety of colors like yellow, red, blue, black, and white. The array of colors not only adds visual appeal to the range but also helps with target visibility, making it easier for archers to focus on their shots.
HELPING ARCHERY ENTHUSIASTS ACROSS THE NATION - GAMETIME ATHLETICS
We encourage you, if you haven't heard of GameTime Athletics, to learn more
about us
by visiting our
history page
and seeing some of our
recent projects
. If you have questions about our Square Archery Target Faces or any other archery related inquiries, give us a call at 877-891-2476. If you prefer to reach out to us by email, you can
send us a direct message here
.
One of our representatives is standing by to assist and can provide dealer direct pricing within 24 business hours. To receive a quote or to order, simply click on the size and quantity you need and then click the "Add to Quote" button above. We look forward to hearing from you!
Dealer Direct Lowest Pricing
24 Hour Weekly Response Time
FREE Shipping!
You may add this item along with other products before proceeding to your free quote.