Tennis & Pickleball Net Post
Serving Kansas City & the Continental United States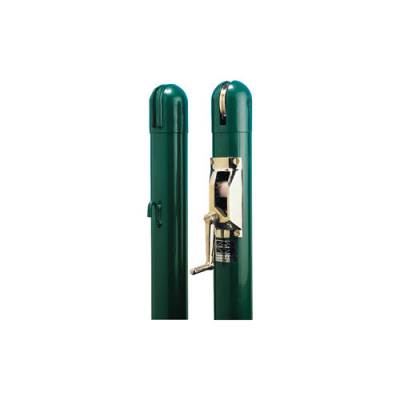 Features & Specs
Tennis & Pickleball Net Post Specs:

Post Height: 36" Above Ground Height
Post Diameter: 3" Round Tubular Steel
Optional Ground Sleeve: 3" Post



Tennis & Pickleball Net Post Features:

Uses: Pickleball and Tennis
Sized for 10 & Under Practice and Competition
Material: Tubular Steel
Features a Powder Coated Finish
Comes with Lacing Bars and Brass Winder
Available: Ground Sleeves and Net Sold Separately
Includes 1-Year Warranty



Tennis and Pickleball Net Post Colors:
Tennis & Pickleball Net Post Details
GameTime Athletics, a nationwide distributor of sports and field maintenance equipment, offers a versatile solution for young athletes with these 10 & Under Tennis and Pickleball Net Posts. These posts are specially designed to meet the needs of youth tennis and pickleball players, ensuring a reliable and adjustable setup whether you are practicing or in competitive play.
With a 36" above-ground height and a 3" round tubular steel construction, they provide the stability and durability necessary for both sports. The optional 3" post ground sleeve adds further flexibility for installation and can be ordered directly from GameTime Athletics.
Constructed from robust tubular steel with a powder-coated finish, these net posts are built to withstand the rigors of play and outdoor conditions. The set includes lacing bars and a brass winder, making it easy to secure the net for court play.
Whether you are playing pickleball or tennis, your court setup will most likely need a net, something GameTime can provide separately depending upon your needs. An optional 3" ground sleeve post is available for further customization. GameTime Athletics provides all these optional products, including the net post, with a 1-year warranty, ensuring their quality and durability lasts season after season.
With color options of black and green, these 10 & Under Tennis and Pickleball Net Posts not only deliver functionality but also a stylish and visually appealing addition to any court.
GET YOUR PICKLEBALL AND TENNIS COURT EQUIPMENT AT GAMETIME ATHLETICS
For over two decades, GameTime Athletics has been the go-to for sports and court maintenance equipment provider to coaches, players, and athletic departments across the United States. Some of the industries we serve, in addition to the general public, include parks and recreation departments, school districts, universities and competitive youth sports organizations.
If you'd like to learn more about GameTime Athletics, click on the provided links that showcase our recent projects, our history and other sports equipment we provide. If you have questions about the 10 & Under Tennis and Pickleball Net Posts we offer, or any other court equipment inquiries you have, reach out to us at 877-891-2476.

To order or to receive a customized dealer direct pricing quote from one of our representatives within 24 business hours, simply add the number of posts needed and click the "Add to Quote" button above.
Dealer Direct Lowest Pricing
24 Hour Weekly Response Time
FREE Shipping!
You may add this item along with other products before proceeding to your free quote.