Three-Row Monster Broom
Serving Kansas City & the Continental United States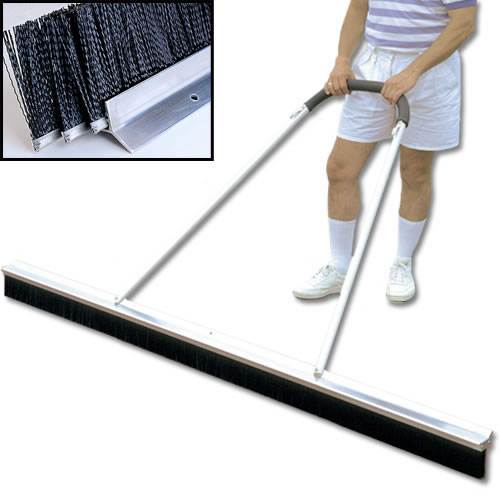 Features & Specs
Three-Row Monster Broom Specs:

Product Length: 84 in. (7 ft.)
Product Weight: 18 lbs.



Three-Row Monster Broom Features:

Product Brand: Midwest Rake
Broom Style: Drag
Broom Color: Silver and Black
Handle Material: Aluminum
Features a three 7 ft. Rows of Bristles
A-Frame Padded Handles
Uses: Baseball and Softball Infields and Tennis Courts
1 Year Warranty Included


Three-Row Monster Broom Details
The Three Row Monster Broom, built by Seymour Midwest and sold by GameTime Athletics, is a powerful and efficient tool designed to tackle even the toughest outdoor cleaning tasks. As an authorized dealer for Seymour Midwest, GameTime Athletics ensures that customers have access to this exceptional broom, known for its durability and superior performance.
The Three Row Monster Broom is expertly crafted with three rows of bristles that span 7 ft. in length. The broom's construction makes it a reliable choice for tennis, baseball, and softball.
The Monster Broom delivers exceptional sweeping power. Whether it's removing leaves, dirt, or debris from sports fields, parking lots, or other outdoor surfaces, this broom is up to the task. The bristles are carefully designed to withstand rigorous use and maintain their effectiveness over time, ensuring longevity and efficiency.
Constructed from heavy-duty aluminum, the Monster Broom can withstand the elements year after year. It includes an A-frame padded handle that's easy to grasp and apply in between innings or games. Whether used by groundskeepers, maintenance crews, or homeowners, this broom delivers reliable performance and helps keep outdoor areas clean and well-maintained.
HAND TOOLS AND FIELD EQUIPMENT AT GAMETIME ATHLETICS
Since 2000, GameTime Athletics has been supplying coaches, players and field crews with the tools and sporting equipment they need to prepare for a game and play.
If you'd like to receive dealer direct pricing for the Three-Rowed Monster Broom, simply click the "Add to Quote" button above and our team will reply promptly. Feel free to learn more
about us
, read about
our history
and see some of our more
recent projects.
We are available to talk to you about your field maintenance needs at 877- 891- 2476 or if you prefer,
message us here.
Dealer Direct Lowest Pricing
24 Hour Weekly Response Time
FREE Shipping!
You may add this item along with other products before proceeding to your free quote.