13.5" Fastpitch Softball Glove
Serving Kansas City & the Continental United States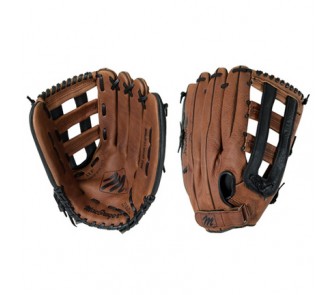 Features & Specs
MacGregor 13.5" Fastpitch Softball Glove Features:




Left-Hand Throw (LHT) & Right-Hand Throw (RHT) Options
Color: Brown with Black Stitching, Borders, and Imprint
Uses: Softball Field Glove
Material: Genuine Pre-Oiled Full Grain Leather
Web Style: Deep Ball Pocket with Dual "H" Post Web Design
Fast Break in Time
1-Year Warranty Included




Common Fastpitch Softball Glove Sizes

:




Utility/All Positions
Ages 8-11: 11" - 12"
Ages 12+: 11.5" to 12"
Pitcher
Ages 8-11: 11.5" - 12"
Ages 12+: 12" - 12.5"
Infield
Ages 8-11: 11" - 12"
Ages 12+: 11.5" - 12"
Outfield
Ages 8-11: 11.5" - 12"
Ages 12+: 12" - 13.5"
13.5" Fastpitch Softball Glove Details
GameTime Athletics, an approved distributor of MacGregor products, offers the MacGregor 13.5" Fastpitch Softball Glove, a premier choice for fastpitch softball players seeking an exceptional field glove. Specifically designed to meet the unique needs of fastpitch softball fielding, this glove provides players with the tools they need to excel regardless the position they are playing at.
The MacGregor 13.5" Fastpitch Softball Glove is crafted with precision and attention to detail, using high-quality leather materials to ensure durability and longevity. The 13.5" size offers ample coverage for fielding and catching, giving players the confidence to make plays with ease and comes pre oiled allowing it to be broken in easily.
Designed with the fastpitch player in mind, this glove features a deep pocket and dual "H" post open web design that allows players to more easily see and catch pop fly's. With a comfortable fit and secure ball retention that allows for quick throwing transfers, its design enhances flexibility and responsiveness, enabling players to react swiftly to fast-paced plays on the field.

Ideal for ages 12 and up and best suited for outfield play but versatile for infield and pitchers too, the MacGregor 13.5" Fastpitch Softball Glove comes available in both left-hand throw (LHT) and right-hand throw (RHT) options.
GAMETIME ATHLETICS - WHERE SOFTBALL PLAYERS GO FOR GEAR

GameTime Athletics is proud to be an approved vendor for MacGregor and ensures our customers receive genuine authentic products that perform. The MacGregor 13.5" Fastpitch Softball Glove exemplifies this commitment, offering players the reliability and functionality they need to elevate their game on the softball field.
GameTime Athletics was established to provide premier athletic equipment and field maintenance supplies to coaches, players, and field crews across the country. With our equipment knowledge and dedication to customer satisfaction, GameTime strives to be your go to source for all things sports.
If you'd like to receive a dealer direct pricing quote, simply click the "Add to Quote" button above and our team will reach out promptly to provide individual and bulk order pricing. We look forward to working with you to make your impact on the softball diamond significant.

Dealer Direct Lowest Pricing
24 Hour Weekly Response Time
FREE Shipping!
You may add this item along with other products before proceeding to your free quote.