Varsity 12.5" Baseball Fielder's Glove
Serving Kansas City & the Continental United States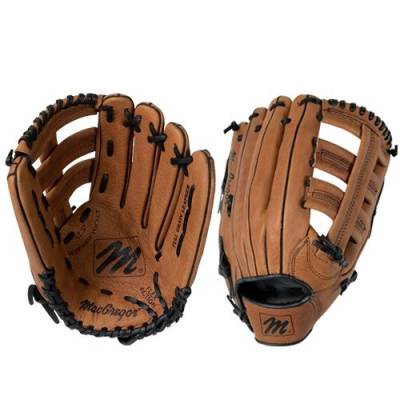 Features & Specs
MacGregor Varsity 12.5" Baseball Fielder's Glove:

Available in Left Hand Throw (LHT) & Right Hand Throw (RHT)
Color: Brown with Black Stitching, Borders, and Imprint
Uses: Baseball Infield and Outfield Use
Material: Genuine Pre Oiled Leather
Web Style: Open and See Through for Pop Fly's
Features Fast Break In Time
Features Quick Ball Transfer Design
1-Year Warranty Included



Common Glove Sizes for Age 12 to Professional:

Outfield: 12.25" to 12.75"
Catcher: 32.50" to 35"
Pitcher: 11.50" to 12"
First Base: 12.25" to 12.75"
Second Base: 11" to 11.50"
Shortstop: 11.25" to 11.75"
Third Base: 11.50" to 12"



Varsity 12.5" Baseball Fielder's Glove Details
The MacGregor Varsity 12.5" Baseball Fielder's Glove, offered by GameTime Athletics as an authorized distributor of MacGregor products, is a top-tier choice for baseball players seeking exceptional performance on the field. This glove is designed to meet the needs of both infielders and outfielders, offering versatility and reliability across various positions.
Available in both Right Hand Throw (RHT) and Left-Hand Throw (LHT) options, the MacGregor Varsity 12.5" Baseball Fielder's Glove accommodates players from age 12 to professional players and allows versatility for multiple position use or simply catch in the yard.
Crafted with high-quality pre oiled leather material that breaks in easily, this glove ensures durability and longevity in-season and off. The MacGregor 12.5" Varsity Fielders glove also provides ample field coverage and a deep, open web style pocket design, offering excellent ball transfer and see through glove features to securely catch pop fly balls.
The MacGregor Varsity Baseball Fielder's Glove is engineered to withstand the rigors of both infield and outfield play. Its design incorporates features that enhance flexibility, comfort, and ease of use, making it suitable for players who frequently switch between positions or require a glove capable of handling diverse fielding situations.
GAMETIME ATHLETICS GETS PLAYERS PREPARED FOR THE FIELD
As an authorized distributor, GameTime Athletics ensures that customers receive genuine MacGregor products, backed by the brand's reputation for quality and performance. With the MacGregor Varsity 12.5" Baseball Fielder's Glove, players can trust in the reliability and functionality of this product, allowing them to focus on honing their skills and making standout plays on the field.
GameTime Ahtletics, established in 2000, proudly supply's coaches, players, and field crews premier athletic equipment and field maintenance supply's they need to plan, prepare, and play baseball across America.
Click the "Add to Quote" button above to receive dealer direct pricing on individual or bulk orders of Varsity Fielder's Gloves by MacGregor. Once your request has been received, our team will contact you within 24 business hours. We look forward to helping where we can and we appreciate you considering GameTime Athletics.
Dealer Direct Lowest Pricing
24 Hour Weekly Response Time
FREE Shipping!
You may add this item along with other products before proceeding to your free quote.