Varsity Series Catcher's Mitt
Serving Kansas City & the Continental United States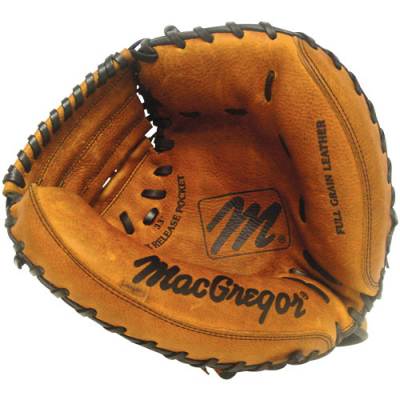 Features & Specs
MacGregor Varsity Series Catcher's Mitt Features and Specs:

Glove Size: 33.5"
Left-Hand Throw (LHT) & Right-Hand Throw (RHT) Options
Color: Brown with Black Stitching, Borders, and Imprint
Uses: Baseball Catchers Mitt
Material: Genuine Pre-Oiled High-Grade Leather
Web Style: Deep Ball Pocket Enclosed Web Design
Features Fast Break In Time

1-Year Warranty Included




Common Glove Sizes for Age 12 to Professional

:

Outfield: 12.25" to 12.75"
Catcher: 32.50" to 35"
Pitcher: 11.50" to 12"
First Base: 12.25" to 12.75"
Second Base: 11" to 11.50"
Shortstop: 11.25" to 11.75"
Third Base: 11.50" to 12"
Varsity Series Catcher's Mitt Details
GameTime Athletics, a nationwide approved dealer for MacGregor, offers the MacGregor Varsity Series Baseball Catcher's Mitt, a top-notch choice for baseball catchers seeking a high-performance and reliable mitt. Designed with precision and expertise, this mitt is crafted to meet the demands of the game and provide exceptional performance for players behind the plate.
The MacGregor Varsity Series Baseball Catcher's Mitt is constructed using high-grade leather to ensure its durability and longevity. Its design incorporates a deep enclosed pocket and a comfortable fit, allowing catchers to securely catch and control pitches with ease. The mitt's specialized construction enhances ball retention and provides the necessary flexibility for quick and efficient throw transfers back to the pitcher.
Ideal for ages 12 and up, and available in both a right-hand throw (RHT) and left-hand throw (LHT) options, the MacGregor Varsity Series Baseball Catcher's Mitt comes with a 1-year warranty and is backed by the MacGregor name.
GAMETIME ATHLETICS HAS BEEN SUPPLYING PREMIUM BASEBALL GEAR SINCE 2000
As an approved dealer, GameTime Athletics guarantees customers receive genuine and authentic MacGregor products which are known for their quality and performance in the baseball community. The MacGregor Varsity Series Baseball Catcher's Mitt exemplifies this commitment, offering catchers the confidence and reliability they need to excel in their position.
GameTime Athletics, established with a dedication to supplying premier athletic equipment to players, coaches and athletic departments across the nation since 2000, is proud to partner with the MacGregor brand. Our expertise and commitment to customer service ensure that players can perform their best on the field.
To inquire about pricing and availability of the MacGregor Varsity Series Baseball Catcher's Mitt, customers can click the "Add to Quote" button above and our team will respond with dealer direct pricing within 24 business hours. To learn more
about GameTime Athletics
, visit a few of our
recent projects
and read about
our interesting history
.
If you'd like to ask some questions about the MacGregor Varsity Series Baseball Catcher's Mitt or any other baseball related equipment we can provide, give us a call at 877-891-2476 or feel free to
message us here
. We look forward to enhancing your performance behind the plate.
Dealer Direct Lowest Pricing
24 Hour Weekly Response Time
FREE Shipping!
You may add this item along with other products before proceeding to your free quote.