Double Play Infield Rake
Serving Kansas City & the Continental United States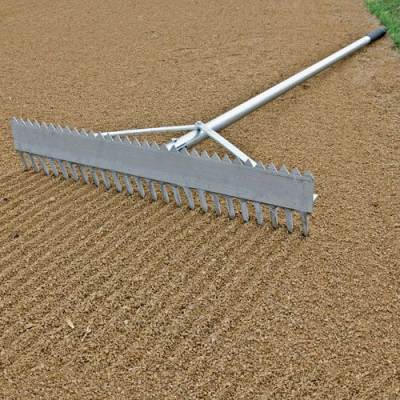 Features & Specs
Double Play Infield Rake Specs:

2 Size Options: 24" W, and 36" W
Handle Length: 66" L



Double Play Infield Rake Features:

Product Manufacturer: Athletic Connection
Color: White
Handle Material: Aluminum
Head Material: Aluminum
Powder Coated Aluminum Handle
Double-Sided Design

Short Teeth Breaks Apart Dirt Clumps
Long Teeth Grooms Dirt for Even Surface
Uses: Baseball and Softball Infields
Double Play Infield Rake Details
Introducing the Athletic Connection Double Play Infield Rake, a top-tier hand tool designed for maintaining pristine baseball and softball infield surfaces, and available for purchase through GameTime Athletics, an authorized distributor of Athletic Connection products.
This dual-purpose infield rake is a game-changer for groundskeepers, field crews, and sports facility managers who strive for professional-level field maintenance. Crafted with exceptional attention to detail, the 24" W and the 36" W rakes offer superior durability and performance. Their heavy-duty construction ensures long-lasting use, even in the most demanding of conditions.
Specifically engineered to tackle the challenges of infield grooming, including leveling, smoothing, and removing debris. The Double Play Infield Rake features a unique dual-head design, making it highly versatile and efficient. The sturdy oversize tines on one side are ideal for cutting through hard-packed clay or dirt, while the finely spaced teeth on the other side distribute topdressing materials, such as infield conditioner or drying agents.
Also designed with comfort in mind, the Double Play Infield Rake boasts a cushioned grip handle and long 66"L handle that reduces fatigue and enhances control during extended use. Its lightweight construction further adds to its ease of maneuverability, allowing for effortless grooming of the infield surface.
GAMETIME ATHLETICS - A GO TO FOR MAINTENANCE TEAMS

As an authorized distributor of Athletic Connection products, GameTime Athletics is committed to providing exceptional customer service and top-quality equipment to ensure your sports facilities are always at their best.
Contact us today at 877-891-2476 to explore our range of products and benefit from our expertise and dedicated support in the field maintenance arena. If you'd like to see up to date dealer direct pricing on our Double Play Infield Rake, simply click the "Add to Quote" button above and one of our team members will promptly return you quote request within 24 hours.
Dealer Direct Lowest Pricing
24 Hour Weekly Response Time
FREE Shipping!
You may add this item along with other products before proceeding to your free quote.