Tamp
Serving Kansas City & the Continental United States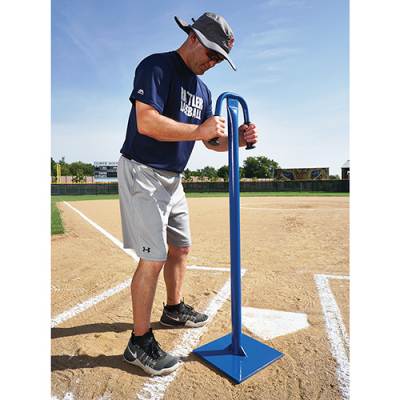 Features & Specs
Tamp Product Specs:

Product Size: 12 in. x 12 in.
Product Weight: 35 lbs.
Product Length: 48 in.



Tamp Product Features:

Product Manufacturer: Athletic Connection
Product Color: Blue
Handle Material: Steel
Head Material: Steel
0.5 in. Steel Plate Thickness
Covers a 12 in. x 12 in. Surface Area
Two Handed Design for Secure Grip
Packs Down Dirt Around Home Plate and Bases
Uses: Baseball and Softball Infields
Tamp Cover Sold Separately


Tamp Details
The baseball and softball Field Tamp built by Athletic Connection and sold by GameTime Athletics is a top-of-the-line hand tool designed to meet the needs of players, field crews and coaches alike. With its high-quality construction and innovative features, this tamp has become a go-to choice for teams and facility managers across the country.
This Tamp is meticulously crafted by Athletic Connection, a renowned baseball equipment manufacturer known for their commitment to excellence. The product reflects their dedication to providing the best tools to enhance ball fields performance and aesthetics. Its durable design ensures longevity, making it a reliable investment for any baseball or softball program.
The Tamp offers several features that set it apart from other options on the market. Firstly, it features a 48" two handed handle that allows users to work at a comfortable height with a secure grip for packing dirt in the infield.
Furthermore, the Tamp's heavy-duty construction provides stability while its 12" x 12" sturdy base ensures that it remains firmly in place when working the tool. The Tamp is 35 lbs. and made with all steel construction, sure to keep your ball fields smooth and even for years to come.
GAMETIME ATHLETICS IS THE GO-TO FOR BALL FIELD EQUIPMENT
GameTime Athletics, a nationwide authorized dealer for Athletic Connection, offers this exceptional tamp that accompanies a multitude of other baseball and softball hand tools they offer. As a trusted provider of sports gear and field maintenance equipment, GameTime Athletics is committed to delivering high-quality products with outstanding customer service and knowledge.

If you'd like to learn more about the Athletic Connection Field Tamp or any other field equipment that you might need to service your baseball and softball diamonds the right way, give us a call at 877-891-2476 or
message us here
.
To receive dealer direct pricing on this Tamp, simply click the "Add to Quote" button above and one of our specialists will quickly respond within 24 hours.
Dealer Direct Lowest Pricing
24 Hour Weekly Response Time
FREE Shipping!
You may add this item along with other products before proceeding to your free quote.