Hammock Volleyball Ball Cart
Serving Kansas City & the Continental United States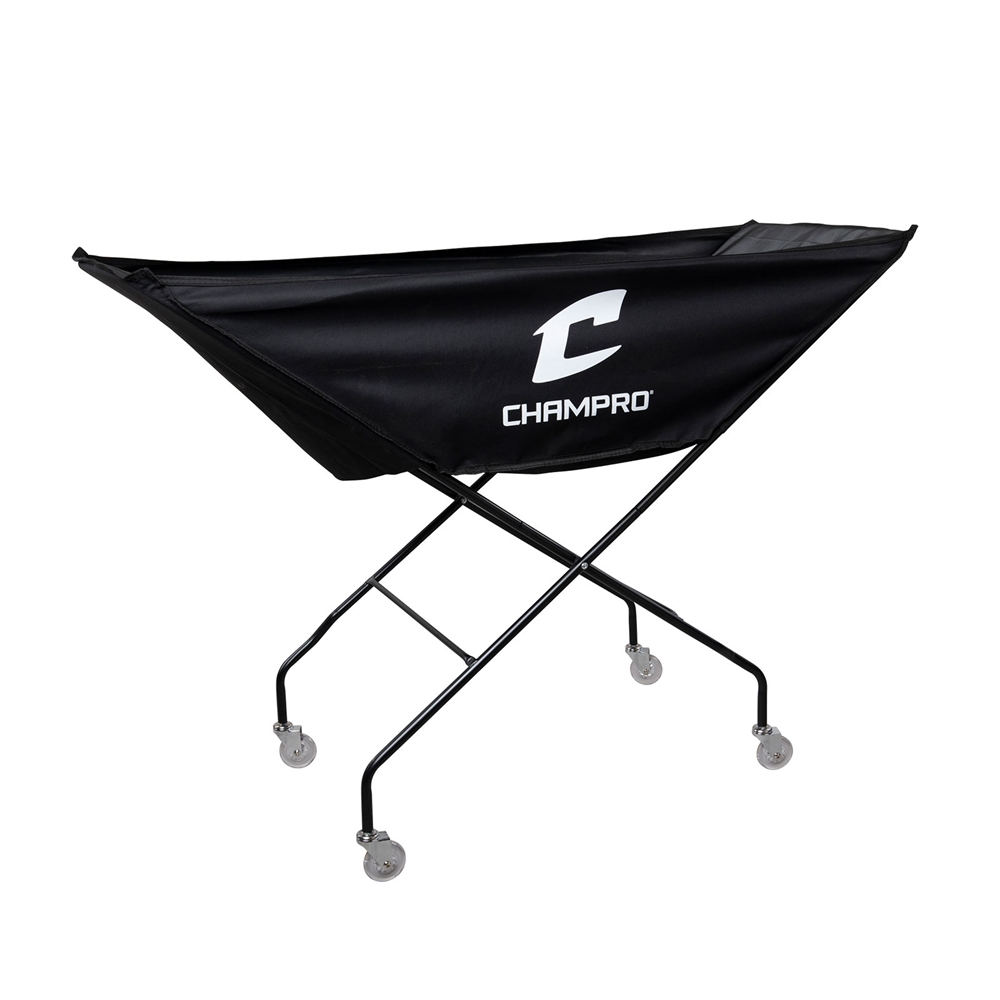 Features & Specs
Hammock Volleyball Ball Cart Specs:

Dimensions: 55.5" L x 22.5"W x 44"H
Weight: 14.62 lbs.



Hammock Volleyball Ball Cart Features:

Securely Holds Up to 24 Volleyballs

Additional Uses: Basketball, Football, and Soccer
Material: Aluminum 19mm Frame
600D Polyester Hammock Style Construction
Full 360-Degree Access
Includes 4 Wheels for Easy Transport
Features Additional Storage Underneath Ball Cart
Folds for Easy Storage After Use
Hammock Volleyball Ball Cart Details
The Hammock Style Volleyball Ball Cart System by Champro offers a practical and efficient solution for storing and transporting up to 24 volleyballs at once. As a nationwide Champro approved distributor, GameTime Athletics ensures superior quality with this unique ball cart system.
The Hammock Style Volleyball Ball Cart System features a unique design that securely cradles volleyballs or another other balls you need to store like tennis balls, basketballs, soccer balls and footballs. This ball cart system provides easy access and prevents game equipment from falling out during transportation. With its sturdy aluminum construction, this cart system offers long-lasting durability for both indoor and outdoor use.
Equipped with smooth-rolling wheels, the cart makes it effortless to maneuver across various surfaces and provides mobility beneficial for coaches, trainers, and facility managers who need to transport multiple volleyballs efficiently.
In addition to its functional design, the Hammock Style Volleyball Ball Cart System promotes organization and tidiness. By keeping the balls neatly contained in the hammock-style storage, it helps prevent clutter and potential tripping hazards in sports facilities or storage areas while also providing additional storage underneath the cart in case you need to transport other padding or nets.
BALL STORAGE MADE EASY WITH GAMETIME ATHLETICS
As an approved dealer for Champro, GameTime Athletics has your ball-related equipment needs met. Whether it's players equipment, coaches equipment, or facility equipment, if it's in the game, it's at GameTime.
If you'd like to receive dealer direct pricing for the Hammock Volleyball Ball Cart System, simply click the "Add to Quote" button above and our team will provide tailored pricing based upon the quantity of carts you need. We, at GameTime Athletics, look forward to hearing from you!
Dealer Direct Lowest Pricing
24 Hour Weekly Response Time
FREE Shipping!
You may add this item along with other products before proceeding to your free quote.