Volleyball Net Storage System
Serving Kansas City & the Continental United States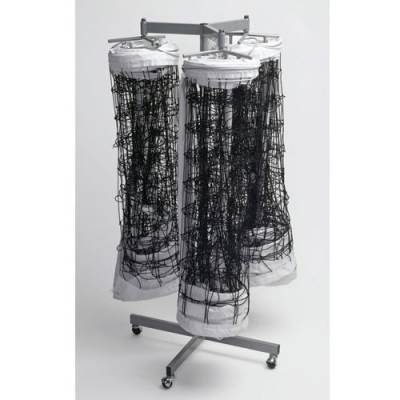 Features & Specs
Volleyball Net Storage System Specs and Features:

Organize Bulky Volleyball Nets in One Place
Available Storage Size Options: 1 Net, 2 Nets or 3 Nets
Activity: Volleyball
Color: Gray/Silver
Includes 4 Caster Wheels for Easy Transport
Simply Roll Nets and Attach in Designated Place
Eliminate Tangled Nets
Includes 1-Year Warranty



Volleyball Net Storage System Details
The Athletic Connection Volleyball Net Storage System, available through GameTime Athletics, stands out as an efficient and convenient solution for volleyball enthusiasts and sports facilities alike. As an authorized nationwide distributor of Athletic Connection products, GameTime Athletics stands by the quality and simplicity of this exceptional net storage system.
Designed with durability and ease of use in mind, the Athletic Connection Volleyball Net Storage System offers a reliable solution for storing and organizing 1, 2 or 3 volleyball nets at once. Made from high-strength steel, this system is built to withstand the rigors of regular use and provides long-lasting performance for years to come.
The system features a well-thought-out design that allows for efficient net storage. By securely holding the volleyball nets in place, it minimizes the risk of damage and tangling, ensuring they are ready for use whenever or wherever they are needed, whether that be indoor or outdoor use.
Furthermore, the Athletic Connection Volleyball Net Storage System promotes a clean and organized environment. By keeping the nets neatly stored, it helps prevent unnecessary clutter and potential tripping hazards in sports facilities. This feature is particularly beneficial for schools, community centers, and other recreational venues that value safety and tidiness.
With its durable construction, easy installation, and ability to maintain a clean and organized environment, this storage system is an excellent choice for anyone seeking to enhance their volleyball experience.
VOLLEYBALL NET STORAGE SYSTEMS AT GAMETIME ATHLETICS
The Athletic Connection Volleyball Net Storage System seamlessly combines convenience, functionality, and portability. Whether you are setting up competition volleyball nets inside or recreational volleyball nets outdoors, GameTime Athletics has your storage needs covered.
To access the most up-to-date dealer direct pricing for the Volleyball Net Storage System and explore optional equipment that can enhance your facilities capabilities, simply click the "Add to Quote" button above. Within 24 hours, one of GameTime Athletics' knowledgeable representatives will promptly respond to your request.
For more information
about GameTime Athletics
or to peruse their portfolio of
recent projects
, please visit the provided links. If you have any questions regarding scoring systems or any other sports-related equipment, the dedicated team at GameTime Athletics is ready to assist you. Feel free to give us a call at 877-891-2476 or
send us a direct message here
.
Dealer Direct Lowest Pricing
24 Hour Weekly Response Time
FREE Shipping!
You may add this item along with other products before proceeding to your free quote.