Volleyball Equipment Cart
Serving Kansas City & the Continental United States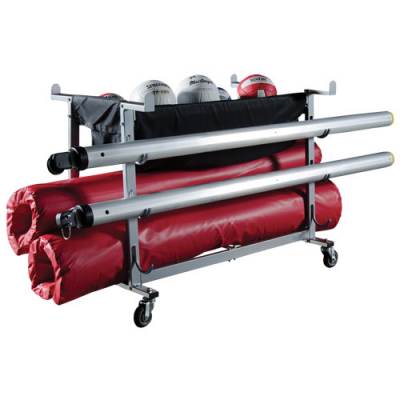 Features & Specs
MacGregor Volleyball Equipment Cart Specs:

Dimensions: 60"L x 32"W x 42"H
Basket Dimensions: 8" Deep x 20" Wide x 5' Long
Weight: 75 lbs.




MacGregor Volleyball Equipment Cart Features:

Uses: Volleyball and Physical Education
Material: 14 Guage Steel Tubing
Includes Large Polyester Basket for Main Organization
Features a Powdercoat Finish
Includes 4 Swivel Caster Wheels for Portability
Carries Up to 6 Poles, Balls, Stands, Pads, and Nets


Volleyball Equipment Cart Details
The MacGregor Volleyball Equipment Cart, available through GameTime Athletics, stands as a reliable and practical solution for storing and transporting volleyball equipment. As an authorized nationwide dealer for MacGregor sports equipment, GameTime Athletics ensures the quality of the products we distribute for, and this exceptional equipment cart is one of the better storage systems available today.
Designed with durability and functionality in mind, the MacGregor Volleyball Equipment Cart offers a convenient and organized approach to managing volleyball gear like nets, balls, stands, and pads. Made from 14-gauge steel materials, this cart is built to withstand the demands of regular use and provides long-lasting performance year after year.
The cart features ample storage space and specialized compartments to accommodate various volleyball equipment, including official sized balls, competitive nets, branded pads, and other essential volleyball items. With its well-thought-out design, it allows for easy access and retrieval of equipment, saving time and effort during setup and teardown.
Furthermore, the MacGregor Volleyball Equipment Cart promotes efficient transportation. Equipped with swivel wheels, it can be effortlessly maneuvered across different surfaces both indoor and outdoor, making it ideal for use in volleyball facilities, school gyms, or community centers.
ELIMINATE VOLLEYBALL EQUIPMENT STORAGE WOES WITH GAMETIME ATHLETICS
By investing in the MacGregor Volleyball Equipment Cart, customers can enhance their volleyball experience by streamlining equipment storage and transportation by having all the essential gear needed to play the game in one place.
We encourage you to learn more
about us
and see some of our
recent projects
. If you have questions about the MacGregor Volleyball Equipment Cart or any other volleyball equipment needs, give us a call at 877-891-2476 or
email us here
.
To receive up to date dealer direct pricing on this volleyball equipment cart, simply click the "Add to Quote" button above and one of our team specialists will promptly reply within 24 hours with tailored pricing. If it's in the game, it's at GameTime Athletics.
Dealer Direct Lowest Pricing
24 Hour Weekly Response Time
FREE Shipping!
You may add this item along with other products before proceeding to your free quote.