Official Beach Volleyball Net
Serving Kansas City & the Continental United States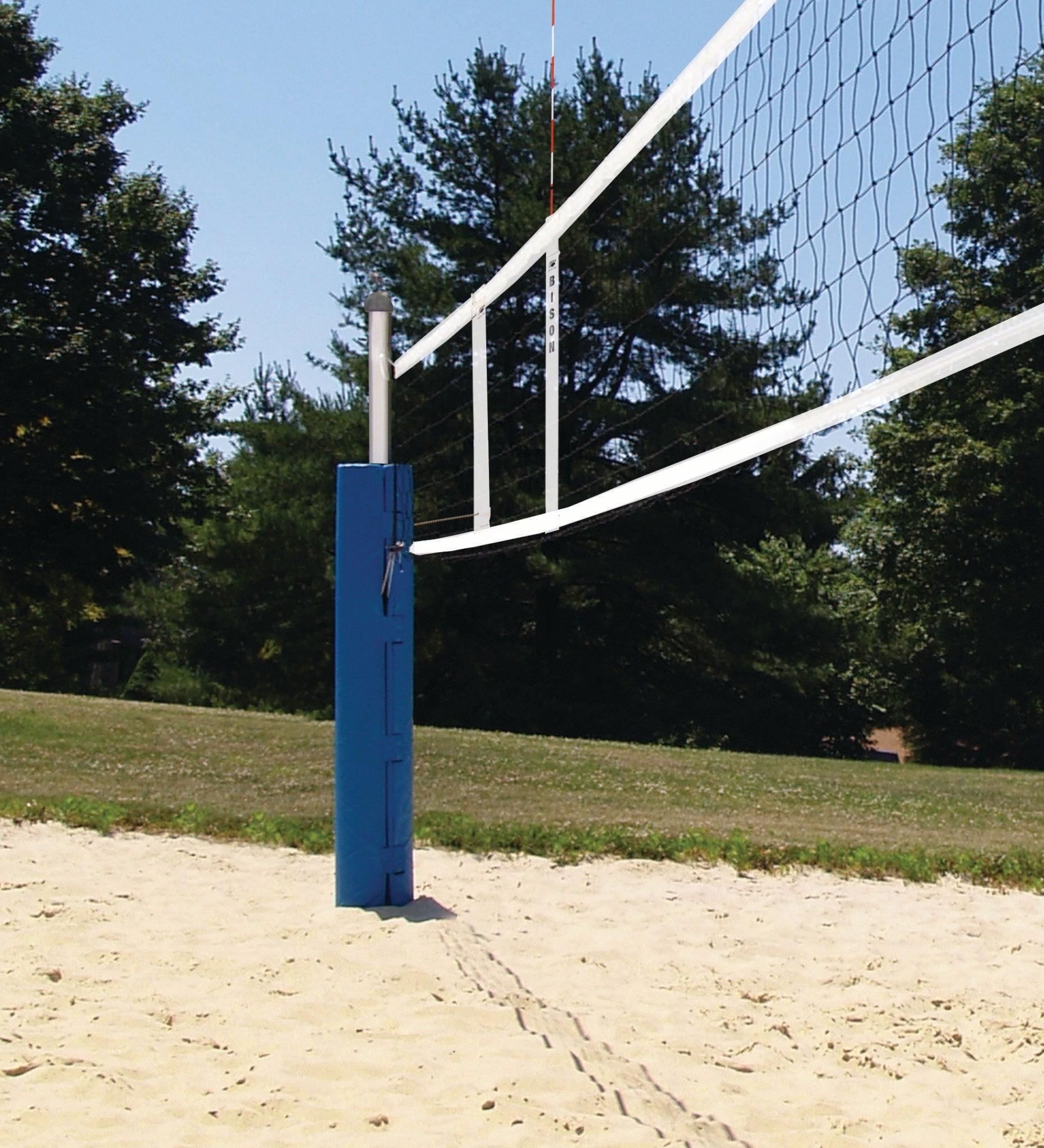 Features & Specs
Official Beach Volleyball Net Specs:

Net Dimensions: 28' L x 3' H
Net Weight: 12 lbs.





Official Beach Volleyball Net Features:

Uses: Outdoor Beach (Sand) Volleyball
Meets NCAA, USVBA, FIVB, and NHSF Regulations
Includes No Stretch Kevlar Top Rope
Features Tenex Bottom Rope with Ratchet Tensioner
Heavy White Vinyl Side Tapes
Fits Posts Spaced 35' to 45' Apart
Includes Four Top and Bottom Rope Cable Covers
Includes a Zippered Storage Bag
One-Year Outdoor Warranty



Official Beach Volleyball Net Details
GameTime Athletics, an authorized distributor of Bison sports products, takes pride in offering top-quality equipment to enhance the sporting experience of athletes and volleyball enthusiasts. Among their impressive lineup is the 28' Official Beach (Sand) Volleyball Net by Bison, a true game-changer in the realm of beach volleyball.
Designed to meet the rigorous standards set by prestigious organizations, including the NCAA, USVBA, FIVB, and National High School Federation, this net ensures compliance with rules and regulations governing the sport of volleyball. It provides players with the confidence that they are playing on an official-grade net, allowing them to train and compete with the same high standards as professional athletes.
The 28' Official Beach (Sand) Volleyball Net is engineered with meticulous attention to detail, employing durable materials like Kevlar that can withstand the challenging outdoor environment. Its sturdy construction guarantees excellent performance, and a professional look to your outdoor sand setup.
Setting up this net is a breeze, thanks to its user-friendly design and tension ratcheting system. It features adjustable tension straps and a quick-release system, allowing for easy installation and precise net height adjustments. Players can focus on their game without wasting time or effort on cumbersome net setup or net failure.
With the 28' Official Beach (Sand) Volleyball Net by Bison, GameTime Athletics offers a high-quality product that brings the excitement and authenticity of professional beach volleyball to any outdoor setting. Whether it's a friendly game at the beach or a competitive tournament, this net delivers the durability, reliability, and performance that athletes and organizers demand.
MEET GAMETIME ATHLETICS, A PREMIER VOLLEYBALL EQUIPMENT DISTRIBUTOR
GameTime Athletics has been dedicated to establishing itself as the premier sports equipment distributor in the United States since 2000. Our extensive range of premium athletic and field maintenance equipment caters to all sporting needs. Whether it's for coaches, players, athletic departments, or facility crews, GameTime Athletics ensures that if it's related to the game, they have it covered.
The primary focus of GameTime Athletics lies in providing top-of-the-line equipment from leading manufacturers to various industries like:
For those unfamiliar with GameTime Athletics, we encourage exploring our website and visiting our
recent project
pages to gain a better understanding of their expertise and accomplishments. Additionally, individuals can learn more
about GameTime
and our
unique history
. For inquiries about the Bison Competition Beach Volleyball Net or any other volleyball-related products, customers can reach out by phone at 877-891-2476 or
send a message
through the provided channel.
By clicking the "Add to Quote" button above, customers can initiate the process of obtaining the most up-to-date dealer direct pricing. Within 24 business hours, one of GameTime's team members will respond promptly. GameTime Athletics eagerly looks forward to collaborating with fellow volleyballers in the hopes we can be your go to volleyball equipment provider.
Dealer Direct Lowest Pricing
24 Hour Weekly Response Time
FREE Shipping!
You may add this item along with other products before proceeding to your free quote.