Recreation Volleyball Net
Serving Kansas City & the Continental United States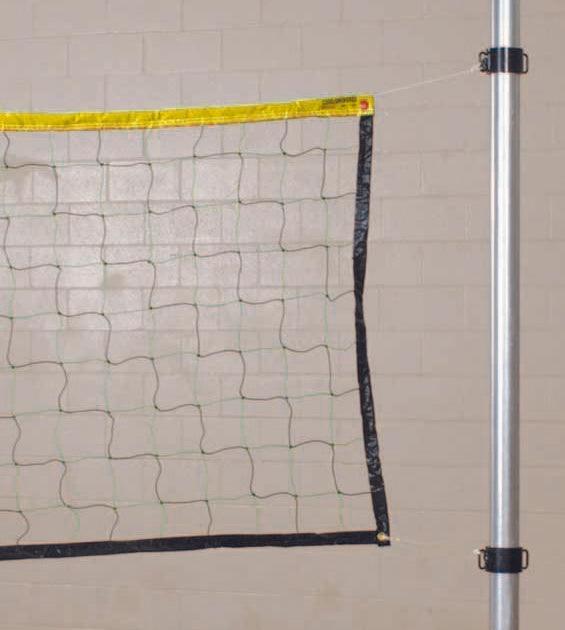 Features & Specs
Recreation Volleyball Net Specs:

Net Dimensions: 32' L x 3' H
Headband: 1.77mm Vinyl
Poly Rope Top: 5/32" Thickness
Net Weight: 3 lbs.




Recreation Volleyball Net Features:

Uses: Indoor, Outdoor, Sand and Multi-Net Games
Material: Nylon Top with 2 Tone Polyethylene Webbing
Color: 2 Tone Black and Yellow Net with Yellow Top
Fluorescent Yellow Top Tape for Visibility
Fits Most Game Systems
Features Top and Bottom Grommets for Tying
Weather Resistant
90-Day Limited Warranty


Recreation Volleyball Net Details
Introducing the Bison Recreational Volleyball Net available through its authorized dealer, GameTime Athletics. As a nationwide sports equipment distributor, GameTime Athletics are specialists in volleyball gear and equipment, offering players and sports facilities alike the best product options available to elevate their volleyball experience, including recreational volleyball nets.
Crafted with attention to detail, the Bison Recreational Volleyball Net exemplifies durability, versatility, and performance. Constructed from high-quality nylon and polyethylene materials, this net ensures suitability for both indoor and outdoor use. The net's robust weather resistant design helps it withstand the rigors of intense gameplay and harsh elements, making it an ideal choice for recreational leagues, schools, and community centers.
Measuring 32 ft. long by 3 ft. high, the Bison Recreational Volleyball Net guarantees a true and authentic volleyball playing experience as well as a multitude of other sports like badminton, soccer volleyball, pickleball, and tennis. The net's vibrant yellow top color enhances visibility, ensuring that players can easily track the ball's trajectory whether its a recreational match or an intense competition.
Moreover, the Bison Recreational Volleyball Net is easy to set up and adjust, thanks to its user-friendly design. Whether it's for a casual game at the beach or a competitive tournament indoors or outside, this net is quick to setup and secure, providing a hassle-free experience for players and organizers alike.
PROVIDING PREMIUM VOLLEYBALL EQUIPMENT SINCE 2000
Since the turn of the 21st Century, GameTime Athletics has strived to be the best sports equipment distributor in the United States, offering premium athletic and field maintenance equipment for all things sports. From coaches and players to athletic departments and facility crews, if it's in the game, it's at GameTime Athletics.
We encourage those that don't know us to learn more
about GameTime
and visit our
recent projects
or read about
our story
. If you have questions about the Recreation Volleyball Net by Bison or any of our other volleyball related product lines, give us a call at 877-891-2476 or
message us here
.
Click the "Add to Quote" button above and one of our team members will respond directly within 24 business hours with our most up to date dealer direct pricing. We at GameTime look forward to working with you!
Dealer Direct Lowest Pricing
24 Hour Weekly Response Time
FREE Shipping!
You may add this item along with other products before proceeding to your free quote.