Pro Style Power 2 Volleyball Net
Serving Kansas City & the Continental United States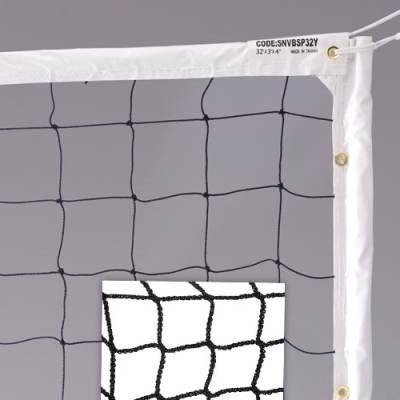 Features & Specs
Pro Style Power 2 Volleyball Net Specs

:

Net Dimensions: 32' x 3' 3"
Net Material: 2.5mm Polyethylene Net
Additional Materials: Synthetic, Vinyl, Steel and Wood
Headband: 2" Heavy-Duty 18 oz. Vinyl Bottom and Top
Cable: 40' in Length, 1/8" Steel Top and 37' Length Bottom
Net Weight: 9.46 lbs.



Pro Style Power 2 Volleyball Net Features

:

Net Uses: Indoor and Outdoor Volleyball Courts
Net Color: White and Black
Resistant to Wear and Tear
Includes Top and Bottom Heavy-Duty Vinyl Reinforcement
Synthetic Covered Wooden Dowels for Straightness
Steel Cables on Top and Bottom for Rigidity
Best on Double Ratchet Volleyball Systems
Pro Style Power 2 Volleyball Net Details
GameTime Athletics, an approved nationwide MacGregor sports equipment distributor, proudly offers the MacGregor Pro Power 2 Indoor and Outdoor Volleyball Net, a high-quality net designed to meet the demands of competitive volleyball play. This net is a go-to choice for schools, recreation leagues, sports clubs, and volleyball facilities seeking a durable and versatile volleyball net option.
The MacGregor Pro Power 2 boasts exceptional craftsmanship and superior materials to ensure optimal performance. It is built to withstand the rigors of intense indoor and outdoor matches, providing years of reliable service and professional appearance. The net's sturdy construction and strong building materials like steel, vinyl, synthetic, polyethylene and wood, guarantees excellent durability and resistance to wear and tear.
Designed with player safety and visibility in mind, the MacGregor Pro Power 2 features a high-contrast, high-quality regulation-size net that measures 32 ft x 3.3 ft. The net's vibrant white color enhances visibility, allowing players and officials to easily track the ball during fast-paced rallies. Additionally, the net's polyester fabric is weather-resistant, making it suitable for both indoor facility uses and outdoor grass or sand play.
Installation and adjustment are effortless, thanks to the net's user-friendly design. The top cable and side dowels provide stability and prevent sagging, ensuring a taut and consistent net height during gameplay. Whether you need a single court net or a dual side-by-side net, GameTime Athletics can help you choose your best options based upon your facility's needs.
GET YOUR VOLLEYBALL SYSTEM AND NETS AT GAMETIME ATHLETICS
When it comes to volleyball nets, the MacGregor Pro Power 2 Indoor and Outdoor Volleyball Net is a top-tier option available through GameTime Athletics. Whether for competitive matches or casual recreational play, thes nets deliver durability, rigidity, and ease of use, guaranteeing a satisfying volleyball experience for players and spectators alike.

GameTime Athletics has established itself as a leading nationwide provider of volleyball court equipment and sporting goods, catering to players, coaches, and facility managers across the country since 2000. With an extensive range of products sourced from hundreds of top sports manufacturers, we offer over 5,000 options for maintenance and player-related equipment, ensuring you have everything needed to keep players and facilities fully engaged in the game.
To benefit from dealer direct pricing, simply click the "Add to Quote" button above, and within 24 hours, one of GameTime Athletics' team members will promptly respond. To learn more
about GameTime Athletics
or ask about our wide selection of volleyball-related products, feel free to contact us at 877-891-2476 or
send us your message here
.
Dealer Direct Lowest Pricing
24 Hour Weekly Response Time
FREE Shipping!
You may add this item along with other products before proceeding to your free quote.