Outdoor Tetherball Pole Set
Serving Kansas City & the Continental United States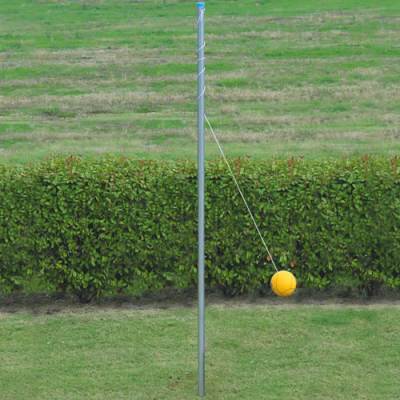 Features & Specs
Outdoor Tetherball Pole Specs:

Pole Height: 12 ft. Galvanized Steel
Pole Width: 2.38 in. Galvanized Steel




Outdoor Tetherball Pole Set Features:

Uses: Outdoor Playgrounds and Physical Education
Material: Galvanized Steel Construction
Design: Two-Pieces Combine to Form 12 ft. height
Color: Silver
Securely and Permanently Installs 2 ft. in the Ground
Includes Ball, Rope, and Top Eye for Setup
Features a 1-Year Warranty
Outdoor Tetherball Pole Set Details
GameTime Athletics, a nationwide sports and field equipment provider, proudly offers Outdoor Tetherball Pole Set. These 12-foot poles, made from sturdy galvanized steel have a 2 3/8-inch round pole design, are constructed for permanent installation in outdoor playgrounds, schools, and recreation facilities across the United States.
These Outdoor Tetherball Poles are built to last, capable of withstanding intense matches and varying weather conditions year after year. The two-piece design combines into 12-foot in length, making installation straightforward. The pole is secured permanently by 2-foot insertion into the ground, ensuring a stable and durable structure for uninterrupted tetherball play.
The Outdoor Tetherball Pole Set includes all the essentials: a tetherball, a robust tethered rope, and a top eye for easy assembly. It's a comprehensive package, ready to bring tetherball enjoyment to your outdoor space without hassle.
TETHERBALL EQUIPMENT AT GAMETIME ATHLETICS

At GameTime Athletics, we take pride in providing top-tier sports equipment, and our Outdoor Tetherball Pole Sets are no exception. Whether you're setting up in a schoolyard, playground, or recreational area, these poles promise endless tetherball excitement.
If you have any inquiries regarding our Outdoor Tetherball Pole kits or any other specialized equipment, please contact us at 877-891-2476 or
send us a private message
. To place an order, you can conveniently click the "Add to Quote" button above, and our dedicated team will promptly provide you with dealer-direct pricing within 24 business hours.
At GameTime Athletics, our dedication lies in making high-quality equipment accessible to anyone who values an active and enjoyable lifestyle. We're here to support your sporting needs and ensure you have the tools to pursue a healthier and more fulfilling life through sports and physical activities.
Dealer Direct Lowest Pricing
24 Hour Weekly Response Time
FREE Shipping!
You may add this item along with other products before proceeding to your free quote.