Voit Tetherballs
Serving Kansas City & the Continental United States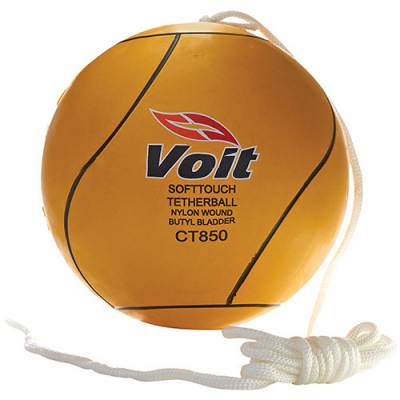 Features & Specs
Voit Tetherball Specs

:

Diameter: 8 in.
Weight: 2 1/4 lbs.



Voit Tetherball Features

:

Uses: Outdoor Playgrounds and Physical Education
Material: Butyl Bladder Construction
Color: Yellow
Features Nylon Windings to Help Retain Shape
Includes Attached Recessed Rope for Easy Installation
Available in a Soft-Touch or Traditional Rubber Cover
Includes 1-Year Warranty

Voit Tetherballs Details
GameTime Athletics, a nationally approved Voit Sports Equipment distributor, proudly offers Voit Tetherballs. These indoor and outdoor tetherballs are a fantastic addition to playgrounds, recreational facilities, and physical education departments, no matter your location in the United States.
Voit Tetherballs come with a durable rope attached, ready for action right out of the box. They are designed to withstand the rigors of intense gameplay, ensuring long-lasting entertainment for players of all skill levels for years to come.
What sets Voit Tetherballs apart is the option to choose between two distinct cover styles. The soft-touch cover provides a comfortable and gentle feel, making it ideal for players of all ages, including children. On the other hand, the traditional rubber cover offers a classic, resilient surface that can endure intense matches and annual use.
GET TO KNOW GAMETIME ATHLETICS - YOUR TETHERBALL SPECIALISTS
Whether you're looking for a softer touch or a more traditional feel, Voit Tetherballs are a great choice. GameTime Athletics takes pride in providing high-quality sports equipment, and our selection of Voit Tetherballs is no exception. These tetherballs are designed to enhance outdoor and physical activities, promoting active and enjoyable play for everyone.
As a proud provider to
school districts
and
physical education departments
across the nation, GameTime Athletics strives to be a dependable partner, whether we are providing sports equipment to players and coaches or field equipment to maintenance staff and athletic departments, if it's in the Game, it's at GameTime!
To order, simply click on the "Add to Quote" button above and one of the GameTime Athletics staff will respond to your inquiry promptly, within 24 business hours. We at GameTime look forward to helping you with your indoor and outdoor tetherball needs!
Dealer Direct Lowest Pricing
24 Hour Weekly Response Time
FREE Shipping!
You may add this item along with other products before proceeding to your free quote.