Portable Tetherball Pole Set
Serving Kansas City & the Continental United States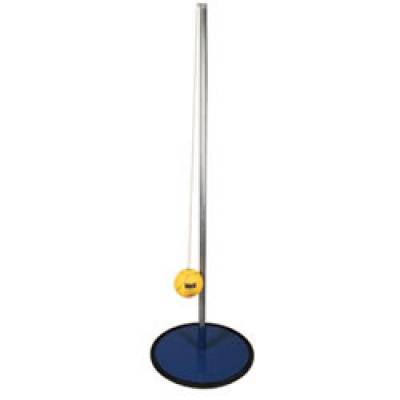 Features & Specs
Portable Tetherball Pole Set Specs:

Pole Height: 10 ft.
Pole Width: 1.9 in.
Product Height: 10 ft.
Product Width: 40 in.





Portable Tetherball Pole Set Features:

Uses: Indoor and Outdoor Tetherball
Material: Rubber Base and OD Galvanized Steel
Colors: Navy and Black Base and Silver Pole
Features a 40" Diameter Portable Base
Rolls for Easy Transportation
Includes Yellow Ball and String
Includes 1-Year Warranty
Made in the USA


Portable Tetherball Pole Set Details
The Portable Indoor and Outdoor Tetherball Pole Set, brought to you by Athletic Connection and available through GameTime Athletics, offers an exciting way to enjoy tetherball in both indoor and outdoor settings. With a pole height of 10 feet and a pole width of 1.9 inches, it's the ideal choice for players of all ages.
This versatile tetherball pole set is designed for ease of use and transportation. It stands at 10 feet in height and has a product width of 40 inches on the movable base. The pole itself is constructed with OD galvanized steel, ensuring strength and durability, while the stable base is made of rubber in navy and black colors. The 40-inch diameter portable base can roll making it easy to move and set up in different locations for convenient transportation.
The set includes a yellow ball and string, making it ready for a game as soon as it's set up. Additionally, the product is made in the USA and backed by a 1-year warranty, showcasing the manufacturer's commitment to quality. The Portable Indoor and Outdoor Tetherball Pole Set is a fantastic choice for schools, community centers, and physical education departments looking to enjoy tetherball fun in a variety of environments.
GAMETIME ATHLETICS - PREMIUM TETHERBALL EQUIPMENT PROVIDERS
GameTime Athletics was founded in 2000 and is located just outside of Kansas City, Missouri. Since then, we have been a nationwide approved dealer for the top sports equipment manufacturers in the world. Working directly with a
variety of industries
, from schools to athletic departmnts, if it's in the game, you'll find it at GameTime.
We encourage you to learn more
about us
by viewing some of our
recent projects
and
history
. If you have questions about the Portable Indoor and Outdoor Tetherball Pole Set or any other related inquiries, give us a call at 877-891-2476. You can also
message us directly
if you prefer.
To order or to receive a dealer direct pricing quote for this tetherball set, simply click on the number of pole sets you are looking to order and click the "Add to Quote" button. A GameTime Athletics representative is happy to help and will respond to your request within 24 business hours.
Dealer Direct Lowest Pricing
24 Hour Weekly Response Time
FREE Shipping!
You may add this item along with other products before proceeding to your free quote.