Standard Hula Hoops
Serving Kansas City & the Continental United States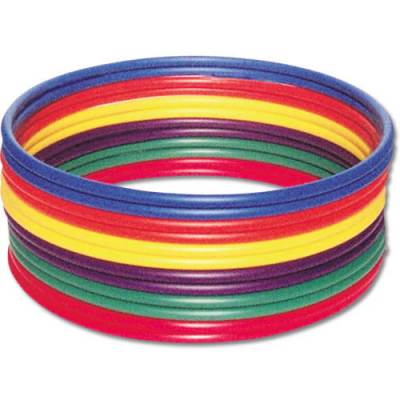 Features & Specs
Standard Hula Hoop Specs:

Quantity: 12
Size Options:
24" Diameter
30" Diameter
36" Diameter




Standard Hula Hoop Features:

Uses: Physical Education, Rec Centers, Aerobics and Fitness
Multi-Functional
Improves Coordination and Balance
Available in 3 Separate Sizes
Includes 12 Hoops in Six Colors
Features a 1-Year Warranty



Standard Hula Hoop Colors:

Blue
Red
Yellow
Purple
Green
Orange


Standard Hula Hoops Details
GameTime Athletics, a renowned nationwide sports equipment distributor, proudly offers Standard Hula Hoops to cater to PE classes and diverse fitness and recreational needs. These hula hoops come in three convenient size options: 24 inches, 30 inches, and 36 inches, ensuring that individuals of all ages and skill levels can achieve better balance and coordination.
Sold in sets of 12, these hula hoops are available in a vibrant spectrum of six colors: Blue, Red, Yellow, Purple, Green, and Orange, adding an exciting element to any physical education class, recreation center, sports organization, fitness routine, or aerobic workout.
The Standard Hula Hoops by GameTime Athletics are designed with durability and functionality in mind. Crafted from high-quality materials, they provide a reliable and long-lasting addition to your fitness equipment arsenal. Whether you're aiming to improve coordination, engage in fun group activities, or enhance your cardiovascular endurance, these hula hoops are up to the task.
In physical education classes, they promote active play and help kids develop essential motor skills. They can be used as targets, hop rings, or throw throughs. Recreation centers can use them for engaging team-building activities, while fitness enthusiasts and aerobic instructors can incorporate them into dynamic workouts to spice up routines and boost calorie burning.
GAMETIME ATHLETICS - AMERICA'S HULA HOOP DISTRIBUTORS
GameTime Athletics wants to invite you to learn more
about us
and read our
unique story
. If you have questions about these Standard Hula Hoops or any other physical education equipment, give us a call at 877-891-2476 or
message us here
.
To order, simply click on the "Add to Quote" button above and a GameTime Athletics specialist will promptly reply to your inquiry within 24 business hours. We look forward to hearing from you!
Dealer Direct Lowest Pricing
24 Hour Weekly Response Time
FREE Shipping!
You may add this item along with other products before proceeding to your free quote.