Voit Playground Balls
Serving Kansas City & the Continental United States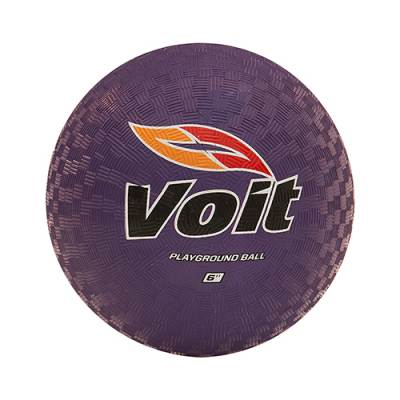 Features & Specs
Voit Playground Ball Specs

:




Size Options
6" Diameter
8 1/2" Diameter
10" Diameter



Voit Playground Ball Features

:




Uses: Playground, Fitness, Rec Centers, and Physical Education
Material: Rubber
Features Two-Ply Rubber Construction
Features Textured Grip for Control
Available in 3 Sizes and 6 Color Options
Used for Low-Impact Activities and Playground Games
Includes 1-Year Warranty



Voit Playground Ball Colors

:




Blue
Red
Yellow
Purple
Green
Orange

Voit Playground Balls Details
GameTime Athletics, an authorized Voit Sports Equipment distributor in the United States, proudly offers a range of Voit Playground Balls that are perfect for recreational activities, schoolyard games, and organized sports. Constructed of rubber, these durable playground balls allow kids of all ages to enjoy countless hours of fun.
One of the standout features of these Voit Playground Balls is their two-ply rubber construction, ensuring resilience against rough play and a long-lasting performance that can withstand years of use. The two-ply rubber also contributes to a consistent bounce, adding to the excitement of any game like four square, catch or dodge ball.
Additionally, these playground balls are designed with a textured grip that enhances control, allowing players of skill levels to make precise passes, catches, and shots with ease. The textured surface not only provides better handling but also reduces the risk of slips and fumbles during play and with its low impact, keeps those playing safe from injuries.
GameTime Athletics offers these Voit Playground Balls in three different sizes to cater to various age groups and preferences: 6", 8 1/2", and 10" diameters. Moreover, they come in an array of vibrant colors, including blue, red, yellow, purple, green, and orange, adding a visually appealing element to your game.
MAKING PLAYGROUND EQUIPMENT FUN AGAIN - GAMETIME ATHLETICS
Whether it's a friendly game of dodgeball, kickball, or four square, these Voit Playground Balls from GameTime Athletics are the ideal choice for a safe, active, and enjoyable playtime experience. So, gear up for hours of excitement with Voit's top-quality playground balls, available now at GameTime Athletics.
GameTime Athletics has been a trusted supplier of premium athletic sports equipment since 2000, catering to a diverse range of industries. Our mission is to ensure that both coaches and players have access to high-quality gear, regardless of the sport they are involved in. We invite you to explore our company further and take a closer look at some of our recent projects to gain a deeper understanding of our commitment and capabilities.
Should you have any inquiries regarding our Voit Playground Balls, please don't hesitate to reach out to us at 877-891-2476 or send us a private message. Ordering is a breeze – simply click the "Add to Quote" button above, and our dedicated team will swiftly provide you with competitive dealer direct pricing.
At GameTime Athletics, we take pride in equipping recreational and school sports programs with top-notch equipment and look forward to serving your sporting endeavor needs.
Dealer Direct Lowest Pricing
24 Hour Weekly Response Time
FREE Shipping!
You may add this item along with other products before proceeding to your free quote.