Six-Color Starter PE Set
Serving Kansas City & the Continental United States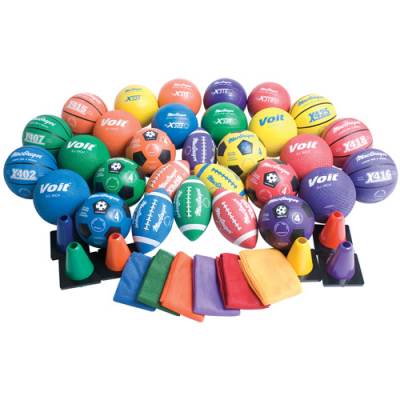 Features & Specs
Six-Color Starter PE Set Specs:

6 - Junior Footballs
6 - Junior Basketballs
6 - Size 4 Soccer Balls
6 - Official Size Volleyballs
6 - 8 1/2" Playground Balls
6 - 6" Colored Cones
6 - Mesh Bags
Product Package Weight: 34.060 lbs.



Six-Color Starter PE Set Features:

Uses: Physical Education and Recreation Centers
Activity: Basketball, Volleyball, Soccer, Football, and Kickball
Colors: Blue, Red, Yellow, Purple, Green and Orange
Contains 1 Color for Each Item Included
Comes with a 1-Year Warranty


Six-Color Starter PE Set Details
GameTime Athletics, a nationwide sports equipment distributor, offers the Six-Color PE Starter Set, a comprehensive package designed to elevate physical education and recreational activities. This set is a true gem for physical education departments, recreation centers, before and after-school programs, church athletic departments, and youth playgrounds.
The Six-Color PE Starter Set includes a diverse range of equipment, ensuring a dynamic and engaging experience for participants. It comprises six volleyballs, six basketballs, six footballs, six soccer balls, six playground balls, six colored cones, and six mesh bags. Each item in this set comes in six vibrant colors: Blue, Red, Yellow, Purple, Green, and Orange. This variety not only adds a splash of excitement but also allows for easy organization and team differentiation.
For physical education instructors and program coordinators, this set streamlines the process of organizing sports and recreational activities. Whether it's teaching students essential sports skills, coordinating games, or promoting physical fitness, the Six-Color PE Starter Set provides the necessary tools to keep participants engaged and active in a variety of sports all year long, regardless of the athletes skill level.
GETTING PEOPLE ACTIVE IN SPORTS SINCE 2000
In summary, GameTime Athletics' Six-Color PE Starter Set is a versatile and vibrant solution for institutions and organizations dedicated to promoting physical fitness and fun. With its diverse equipment selection and colorful variety, it enhances the experience of physical education, recreation, and sports programs, fostering a love for physical activity and teamwork among participants.
Since 2000, GameTime Athletics has been a go-to for a
variety of industries
who need athletic equipment for their program. Whether you need equipment for training, for coaches or for players, if it's in the game, you'll find it at GameTime.
To order your Starter Set or to receive a dealer direct pricing quote on this system, simply click the "Add to Quote" button above and one of our GameTime Athletics representatives will quickly respond to your inquiry within 24 business hours. We, at GameTime Athletics, look forward to getting more people, regardless of their age or athletic ability, more active in sports!
Dealer Direct Lowest Pricing
24 Hour Weekly Response Time
FREE Shipping!
You may add this item along with other products before proceeding to your free quote.