Weighted Bowling Set
Serving Kansas City & the Continental United States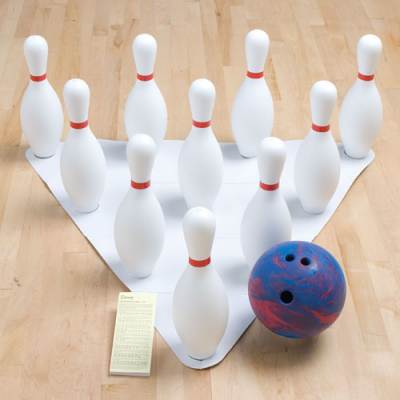 Features & Specs
GameCraft Weighted Bowling Set Specs:

Pin Height: 15 in.
Pin Weight: 10 oz.
Ball Weight: 4.5 lbs.
Package Weight: 13.4200 lbs.



GameCraft Weighted Bowling Set Features:

Uses: Physical Education and Recreational Bowling
Color: White Pins with Red Stripe and Blue/Red Ball
Brand: GameCraft
Includes Ball, 10 Pins, Scoring Sheet, and Setup Sheet
Features Blue and Red Marble-Pattern Ball
Features Realistic Pin Action
Features Triangular Setup Sheet for Pin Placement
Includes 1-Year Warranty


Weighted Bowling Set Details
Elevate your bowling experience with the GameCraft Weighted Indoor and Outdoor Bowling Set, available at GameTime Athletics – your trusted authorized US dealer for GameCraft products. This comprehensive set is designed to bring the excitement of the bowling alley right into your home, school, or recreational space.
The GameCraft Weighted Bowling Set includes everything you need for a fantastic bowling experience: 10 pins, a blue and red marble style bowling ball, a scorer's sheet, and a triangle sheet to neatly arrange the pins. The pins stand at a regulation height of 15 inches, providing an authentic bowling experience and real pin like action. Each pin weighs a manageable 10 ounces, making them suitable for players of all ages and skill levels.
The centerpiece of this set is the bowling ball, which tips the scales at 4.5 pounds. This weight ensures that you can achieve a realistic and satisfying roll with every throw whether you are playing in your home hallway or school gymnasium. The package itself weighs approximately 13.4200 pounds, making it easy to transport and store when not in use.
PHYSICAL EDUCATION EQUIPMENT SPECIALISTS - GAMETIME ATHLETICS
Whether you're setting up a bowling competition at school or hosting a friendly bowling competition with friends and family, the GameCraft Weighted Bowling Set offers the realistic balance of durability and performance. It's a fantastic addition to any leisure or recreational space, allowing you to enjoy the thrill of bowling anywhere you want to. Get ready to strike and spare with this exceptional bowling set from GameTime Athletics.
If you'd like to receive dealer direct pricing or to order, simply click the "Add to Quote" button above and one of our team members will promptly respond to your inquiry within 24 business hours.
Dealer Direct Lowest Pricing
24 Hour Weekly Response Time
FREE Shipping!
You may add this item along with other products before proceeding to your free quote.