Advance Pro Composite Series Footballs
Serving Kansas City & the Continental United States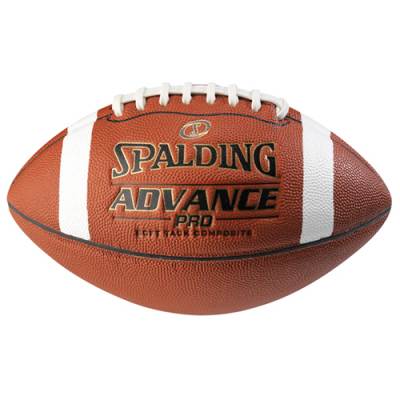 Features & Specs
Spalding Advance Pro Composite Series Footballs Specs:

Football Size Options
Official Size, Ages 14+
Youth, Ages 12 - 14
Junior, Ages 9 - 12
Pee Wee, Ages 6 - 9



Spalding Advance Pro Composite Series Football Features:

Uses: Pee Wee, Junior, Youth, and Young Adult
Soft Tack Premium Composite Cover
Laminated Cover Design
TPR Lace and Soft Grip Design
Features Improved Grip with Foam Backing
Includes 1-Year Warranty
Advance Pro Composite Series Footballs Details
Introducing the Spalding Advance Pro Composite Series Footballs, the epitome of performance and precision on the football field. Available at GameTime Athletics, an authorized nationwide distributor of Spalding Sports -products.
Crafted with cutting-edge technology like it's soft tack composite cover and premium materials like TPR lace, the Advance Pro Composite Series Footballs offer unparalleled grip, control, and durability. Ideal for players of all skill levels, these footballs cater to various age groups, ensuring that every aspiring athlete can experience the joy of using a high-quality ball.
GameTime Athletics takes pride in offering these exceptional footballs in four distinct sizes, designed to suit different age categories. For the youngest players aged 6 to 9, the "pee wee" size ensures a comfortable grip and easy handling. The "Junior" size is perfect for ages 9 to 12, providing an intermediate step before transitioning to the larger sizes.
As players progress to ages 12 to 14, the "Youth" size football offers enhanced performance to match their growing skills and strength. Finally, for those aged 14 and above, the official size provides the professional feel and performance required for either competitive or recreational play.
GAMETIME ATHLETICS HAS BEEN SUPPLYING FOOTBALL EQUIPMENT SINCE 2000
With the Spalding Advance Pro Composite Series Footballs, GameTime Athletics empowers athletes to take their game to new heights, confident in the knowledge that they are using a top-tier product designed to deliver exceptional results on the field.

Since 2000, GameTime Athletics has been supplying premium football equipment and field maintenance solutions to players, coaches, and field crews. Take a look at some of the
industries we help outfit here
.
To receive a dealer direct pricing quote or to order, simply click the "Add to Quote" button above and one of our specialists will respond to your inquiry within 24 business hours. If it's in the game, It's at GameTime Athletics!
Dealer Direct Lowest Pricing
24 Hour Weekly Response Time
FREE Shipping!
You may add this item along with other products before proceeding to your free quote.