Tuff 6 1/4" Dodgeball
Serving Kansas City & the Continental United States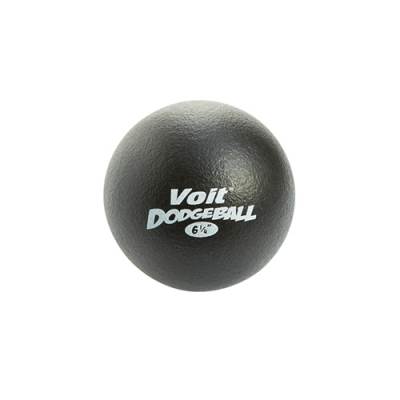 Features & Specs
Voit Tuff 6 1/4" Dodgeball Specs: Voit Tuff 6 1/4" Dodgeball Features:

Uses: Physical Education and Dodgeball
Material: Foam
Color: Black
Manufacturer: Voit
Quantity: 1
Features Soft, Low-Density Foam
Includes Tuff Outer Cover for Easy Grip
Lightweight Design Promotes Safety
Includes 2-Year Warranty


Tuff 6 1/4" Dodgeball Details
GameTime Athletics proudly presents the Voit Tuff 6 1/4" Dodgeball, a game-changing addition to the world of dodgeball. As a nationwide Voit authorized distributor, GameTime Athletics brings you this exceptional dodgeball that combines durability, safety, and performance in one ball.
Crafted from soft, low-density foam, the Voit Tuff Dodgeball is designed with player safety in mind. Its unique composition ensures that the impact of throws and catches is cushioned, reducing the risk of injury during intense dodgeball matches. This makes it an excellent choice for schools, physical education departments, community centers, and recreational leagues where player safety is a top priority.
The standout feature of this dodgeball is its "Tuff" outer cover, specially designed to provide an easy grip no matter the age of the player. Players can confidently handle and control the ball, enhancing their throwing accuracy and gameplay experience. Measuring at a comfortable 6.25 inches in diameter, these dodgeballs are lightweight, making them accessible for players of all ages and skill levels.
GAMETIME ATHLETICS - DODGEBALLS PREMIER EQUIPMENT PROVIDER
Whether you're organizing a dodgeball tournament or looking for a fun and safe game for children, the Voit Tuff 6 1/4" Dodgeball from GameTime Athletics is the perfect choice. Its exceptional quality and durability ensure countless hours of enjoyable play, making it a fantastic addition to any recreational sports program or game night with friends and family. Dodge, duck, dip, and dive your way to victory with the Voit Tuff Dodgeball!
Established in 2000, GameTime Athletics provides a
variety of industries
athletic equipment and field maintenance solutions across the United States. Whether you are a coach, a player, an athletic director, or a facility manager, GameTime has you and your equipment needs covered.
To receive dealer direct pricing or to order, simply click the quantity of balls you need and the "Add to Quote" button above. One of our specialists will happily and promptly reply to your inquiry within 24 business hours.
Dealer Direct Lowest Pricing
24 Hour Weekly Response Time
FREE Shipping!
You may add this item along with other products before proceeding to your free quote.