Enduro Rubber Football W/ Stitched Laces
Serving Kansas City & the Continental United States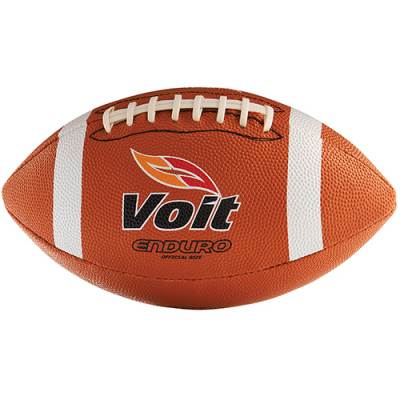 Features & Specs
Voit Enduro Rubber Football Specs:

Football Size Options
Official, Ages 14+
Youth, Ages 12 - 14
Junior, Ages 9 - 12





Voit Enduro Rubber Football Features:

Uses: Physical Education and Recreational Play
Material: Sewn Rubber Panels
Color: Brown with White Stripes
Features Pebble-Grained Rubber Design
Features Butyl Bladder to Retain Air
Includes Composite Stitched Laces


Enduro Rubber Football W/ Stitched Laces Details
Discover the Voit Enduro Rubber Football with Stitched Laces, the ultimate football choice for recreational and physical education programs. Available through GameTime Athletics, a nationwide authorized Voit dealer, the Enduro Rubber Footballs are designed to deliver hours of fun and enjoyment for those playing Americas new favorite pastime.
The Voit Enduro Rubber Football features a sturdy and durable rubber sewn panel construction, ensuring excellent grip and resiliency during play. The reinforced laces provide added durability, making these footballs resilient to the wear and tear of frequent use versus its leather counterparts.
One of the standout features of the Voit Enduro Rubber Football is its affordability. GameTime Athletics recognizes the importance of providing cost-effective sports equipment without compromising on quality. With these lower priced footballs, schools. and their
physical education programs
along with city ran sports leagues can stretch their budgets further and equip multiple teams or classes with high-quality aerial footballs.
Whether it's a friendly game among friends, an organized scrimmage, or part of a structured PE class, the Voit Enduro Rubber Football delivers reliable performance, allowing players to focus on honing their skills and having a blast. The Voit Enduro Rubber Football comes in 3 separate sizes. There is one size for juniors, ages 9-12, one for youth, ages 12-14, and one for those aged 14 or older.
GAMETIME ATHLETICS HAS YOUR FOOTBALL EQUIPMENT NEEDS COVERED
Embrace the joy of football without breaking the bank. Choose the Voit Enduro Rubber Football, available at GameTime Athletics, and equip your programs with top-notch sports equipment that ensures fun-filled activities and fosters a love for the game in all players, regardless of their age or ability.
Since 2000, GameTime Athletics has been providing premium athletic gear and field maintenance equipment to keep players safe and prepared for their sport. Whether you're a coach, a player, or a maintenance crew member, our priority is to provide you with the best products possible that improves or enhances the game of football.
To order your Enduro Footballs or to receive a quote with dealer direct pricing, simply click the "Add to Quote" button above, along with the quantity of footballs you need, and one of our specialists will quickly respond to your inquiry.
Dealer Direct Lowest Pricing
24 Hour Weekly Response Time
FREE Shipping!
You may add this item along with other products before proceeding to your free quote.