Voit Rubber Soccer Ball
Serving Kansas City & the Continental United States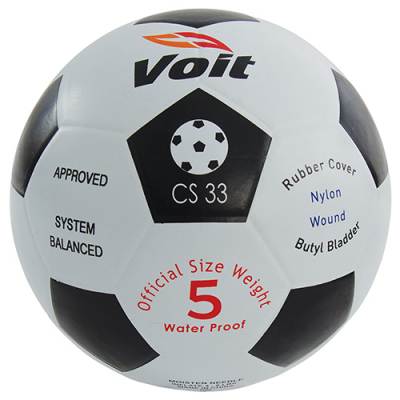 Features & Specs
Voit Rubber Soccer Ball Specs:

Size Options:
Size: 3
Size: 4
Size: 5



Voit Rubber Soccer Ball Features:

Uses: Indoor and Outdoor Soccer
Material: Durable Rubber and Nylon-Wound
Color: White and Black
Features Butyl Bladder for Air Retention
Features Waterproof Design
Includes 1-Year Warranty


Voit Rubber Soccer Ball Details
GameTime Athletics, a reputable nationwide dealer approved by Voit, proudly presents the Voit Rubber Soccer Ball, the pinnacle of durability and performance in the world of soccer. Designed to withstand rigorous play and various field conditions, this soccer ball is a reliable choice for physical education departments and players of all ages and skill levels.
Available in sizes 3, 4, and 5, the Voit Rubber Soccer Ball caters to players of different age groups, from young beginners to seasoned athletes. Its versatile size options ensure that every player can enjoy the game with a ball that suits their needs and enhances their skills.
Crafted with precision using high-quality rubber and a weatherproof design, this soccer ball boasts exceptional resilience and longevity year in and year out. The Voit Rubber Soccer Ball comes with a nylon-wound construction and a butyl bladder that allows it to maintain its shape, air retention, and performance after intense training sessions, making it an ideal companion for both recreational and competitive play.
PARTNERING WITH GAMETIME ATHLETICS
GameTime Athletics' partnership with Voit, a recognized brand in the sports industry, guarantees customers access to authentic products and a seamless purchasing experience. By offering the Voit Rubber Soccer Ball, GameTime provides soccer enthusiasts with a reliable tool to hone their abilities and maximize their enjoyment of the beautiful game.
Whether you are a player, a coach, a PE teacher, or an athletic department looking for an affordable indoor and outdoor soccer ball that can handle most any element, the Voit Rubber Soccer Ball can fit the need.
Since 2000, GameTime Athletics has been outfitting soccer clubs and facility crews across the nation with elite soccer equipment and field maintenance solutions. Want to learn more
about GameTime
? Peek into the
industries that we serve
and glance at some of our more
recent projects
.
To order or receive a tailored quote, complete with dealer direct pricing, simply click the "Add to Quote" button above and one of our specialists will promptly reply to your request within 24 hours. If you have questions about the Voit Rubber Soccer Ball or any other sports related equipment requests, give us a call at 877-891-2476 or
message us here
.
Dealer Direct Lowest Pricing
24 Hour Weekly Response Time
FREE Shipping!
You may add this item along with other products before proceeding to your free quote.