Trump X-Rock-RP-ASA-Y 12" Composite Leather Softball
Serving Kansas City & the Continental United States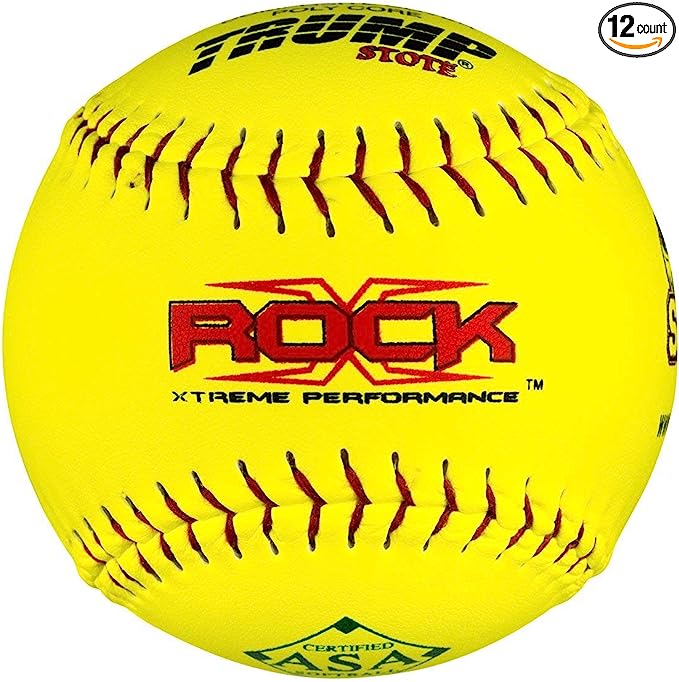 Features & Specs
Trump X-Rock-RP-ASA-Y 12" Softball Specs:

Weight: 5.4 lbs.
Diameter: 12"



Trump X-Rock-RP-ASA-Y 12" Softball Features:

Amateur Softball Association (ASA) Approved
Color: Yellow Ball with Black Stitching
Features Solid Polyurethane Core
Optic Yellow Composite Leather Cover
Features 300 Stitches
Features .52 COR - Softer Ball
Includes 1-Year Warranty
Trump X-Rock-RP-ASA-Y 12" Composite Leather Softball Details
The Trump® X-ROCK-RP-ASA-Y The Rock® Series 52/300 ASA 12 Inch Composite Leather Softball, available through GameTime Athletics, provides softball teams and players across the country to premium athletic equipment, like these top-tier softballs.
The X-ROCK-RP-ASA-Y softball is crafted with precision using high-quality composite leather materials, providing a perfect blend of durability and performance. Its .52 COR rating and 300 lbs. compression make it an ideal choice for ASA (Amateur Softball Association) play, delivering consistent and optimal flight characteristics while maintaining a lively response off the bat.
The Rock® Series 12-inch softball is meticulously designed to meet the highest standards of quality and performance. Its advanced polyurethane core construction ensures true and accurate ball flight, elevating both pitching and hitting performances on the field. With a focus on longevity and reliability, this softball is built to withstand the rigors of competitive gameplay and practice, making it a trusted choice for competitive softball leagues and tournaments across the country.
GAMETIME ATHLETICS - YOUR ONE STOP SHOP FOR PREMIUM SOFTBALL EQUIPMENT
As an authorized dealer for The Rock Series Softballs, GameTime Athletics puts our own trust in the performance and durability of the Trump® X-ROCK-RP-ASA-Y The Rock® Series 52/300 ASA 12 Inch Composite Leather Softball. We are confident players will experience a heightened level of excellence in every aspect of their softball game using tested softballs like these.

We also encourage you to learn more
about Gametime Athletics
by reading some of
our history
and seeing some of the
recent projects
we have been working on. If you'd like to receive a dealer direct pricing quote, simply click on the quantity of balls you need and the "Add to Quote" button above and one of our specialists will respond within 24 hours.
Dealer Direct Lowest Pricing
24 Hour Weekly Response Time
FREE Shipping!
You may add this item along with other products before proceeding to your free quote.