SV-5WS Sensi-Tec Composite Volleyball
Serving Kansas City & the Continental United States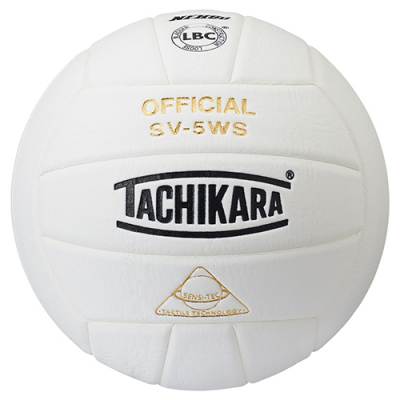 Features & Specs
Tachikara SV-5WS Sensi-Tec Composite Volleyball Specs:

Circumference: 25.6" - 26.4"
Weight: 0.7000 lbs.



Tachikara SV-5WS Sensi-Tec Composite Volleyball Features:

NFHS Approved Specifications
Uses: Indoor Competitive Volleyball Play
Color: White with Black and Gold Lettering
Material: Sensi-Tec Microfiber Composite Leather
Includes Resin-Infused Fiber Cover
Features Quad-Carbon, Isomer Loose Bladder Construction
Features Soft Cover for Less Impact on Fingers
Best Selling Sensi-Tec Leather Ball on Market Today
Panels and Seams are Hand Finished
Includes 1-Year Warranty






SV-5WS Sensi-Tec Composite Volleyball Details
GameTime Athletics, a trusted Tachikara approved nationwide sports equipment distributor, proudly offers the Tachikara SV-5WS Sensi-Tec Composite Leather Volleyball, an exceptional choice for indoor competitive play. Designed to meet the rigorous standards of the National Federation of State High School Associations (NFHS), this volleyball guarantees an optimal playing experience.
The SV-5WS Sensi-Tec boasts a high-quality composite leather cover, combining the durability of synthetic materials with the softness and touch of genuine leather. This innovative construction ensures longevity while providing a comfortable feel, enhancing player control and precision during play.
With its NFHS approval, the SV-5WS Sensi-Tec is the preferred choice for high school volleyball competitions across the country. Its reliable performance and consistent flight pattern make it a reliable companion for intense rallies and demanding matches as well as less impact to players fingertips due to its patented loose bladder construction.
The Tachikara SV-5WS Sensi-Tec volleyball is meticulously engineered for optimal weight distribution, resulting in improved ball handling and reduced fatigue for players. Its well-balanced design enables precise and accurate strikes, allowing athletes to showcase their skills to the fullest.
GET THE #1 SELLING SENSI-TEC LEATHER VOLLEYBALL AT GAMETIME ATHLETICS
When you purchase the SV-5WS Sensi-Tec through GameTime Athletics, you can be confident in the product's authenticity and quality. Whether you're a competitive high school player, a passionate coach, or a volleyball enthusiast, the Tachikara SV-5WS Sensi-Tec Composite Leather Volleyball is the ideal choice for indoor play, offering outstanding performance, durability, and the official NFHS seal of approval.
To receive a dealer direct pricing quote, simply add the quantity of balls you need and click the "Add to Quote" button and one of our team members will promptly reply within 24 business hours. From our team at GameTime Athletics to yours, we look forward to working with you!
Dealer Direct Lowest Pricing
24 Hour Weekly Response Time
FREE Shipping!
You may add this item along with other products before proceeding to your free quote.