Diamond DOL-A NFHS/NOCSAE
Serving Kansas City & the Continental United States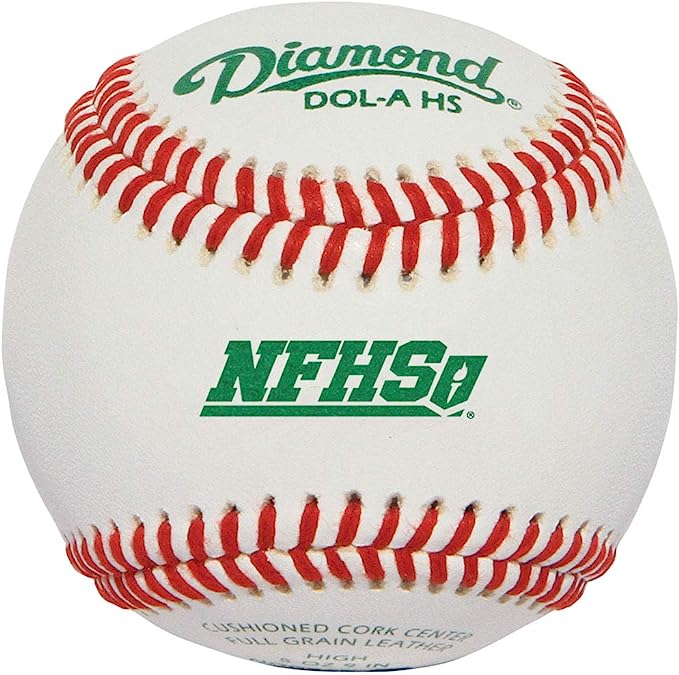 Features & Specs
Diamond DOL-A NFHS/NOCSAE Baseball Specs:

Dimensions: 9"
Weight: 4 lbs.



Diamond DOL-A NFHS/NOCSAE Baseball Features:

NFHS/NOCSAE Approved Baseball
Material: Full-Grain Leather Cover
Color: White with Red Stitching
Features Raised Seam Construction for Better Control
Features Cushioned Cork Center with Wounded Yarn
Quantity: 1 Dozen



Diamond DOL-A NFHS/NOCSAE Details
The Diamond DOL-A NFHS/NOCSAE Baseball, proudly offered by GameTime Athletics, stands as a symbol of excellence in the world of baseball equipment. As a nationwide authorized Diamond Sports distributor, GameTime Athletics ensures that teams and players across the country have access to top-tier baseball products.
The Diamond DOL-A Baseball meets the stringent standards set by both the NFHS (National Federation of State High School Associations) and NOCSAE (National Operating Committee on Standards for Athletic Equipment).
Crafted with precision and expertise, the Diamond DOL-A Baseball showcases remarkable durability, enhanced performance, and a consistent feel. Its premium leather cover provides an excellent grip, allowing pitchers to achieve greater control with the ball. The baseball's resilient construction ensures that it can withstand the rigors of high-level play, making it an ideal choice for high school baseball teams.
Furthermore, the Diamond DOL-A NFHS/NOCSAE Baseball undergoes rigorous testing to meet the safety standards outlined by NOCSAE. This ensures that players are protected from potential injuries associated with substandard equipment.
SUPPLYING AMERICAS PAST TIME SINCE 2000
GameTime Athletics is proud to offer easy access to the Diamond DOL-A Baseball for schools, leagues, and organizations nationwide. With this exceptional baseball, players can elevate their game, coaches can trust in its reliability, and fans can witness the thrilling action that today's youth baseball players can deliver.
To receive a dealer direct pricing quote for the Diamond DOL-A NFHS/NOCSAE Baseballs, simply click the quantity (in dozens) you need and the "Add to Quote" button and one of our team members will respond promptly within 24 business hours.
Dealer Direct Lowest Pricing
24 Hour Weekly Response Time
FREE Shipping!
You may add this item along with other products before proceeding to your free quote.