Volley Trainer
Serving Kansas City & the Continental United States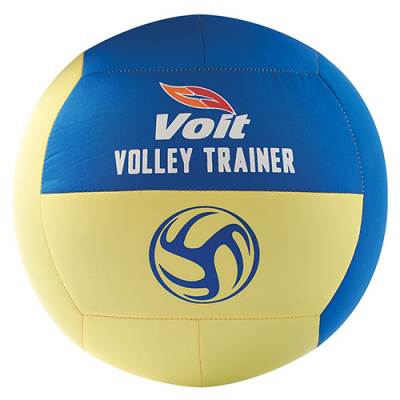 Features & Specs
Voit Volley Trainer Specs:

18% Larger than Official Volleyballs
12% Lighter than Official Volleyballs



Voit Volley Trainer Features:

Uses: Volleyball Training
Training Volleyball to Help Athletes Develop Control
Manufacturer: Voit
Material: Vinyl Cover
Color: Yellow and Blue
Features Latex-Free Vinyl Cover
Features Sponge-Like Feel for Safe Practice
Includes 1-Year Warranty


Volley Trainer Details
The yellow and blue Voit Volley Trainer is a game-changer for volleyball enthusiasts looking to hone their development skills. This innovative volleyball training tool, available through GameTime Athletics, offers a unique blend of performance and convenience. Designed to facilitate focused training sessions, the Voit Volley Trainer boasts several standout features.
Measuring a generous 18% larger than a standard official volleyball, this ball provides a larger hitting surface, making it an ideal choice for practicing serves, digs, and spikes. The increased size enhances precision and accuracy, allowing players to fine-tune their techniques with greater ease.
In addition to its size advantage, the Voit Volley Trainer is 12% lighter than a traditional volleyball. This reduced weight aids in building strength and agility, making it perfect for players of all ages and skill levels. Whether you're a beginner looking to improve your fundamentals or an experienced player striving for perfection, this trainer offers the versatility needed to elevate your game.
Available in highly visible colors, get your team safely practicing together without the risk of severe injury. Made of vinyl, the sponge-like ball is latex-free and designed to provide a softer feel while practicing fundamental volleyball skills.
VOLLEYBALL COACHES AND PLAYERS TRUST GAMETIME ATHLETICS
GameTime Athletics, a trusted nationwide Voit approved dealer, ensures that you receive a top-quality product backed by a commitment to excellence. With the Voit Volley Trainer, players can enjoy intensive training sessions that foster skill development, making it an essential addition to any volleyball enthusiast's arsenal.
Want to learn more
about GameTime
? Visit our
history page
to read our story and browse some of our
recent projects
to better understand all that we do. If you have questions about the Voit Volley Trainer balls or any other volleyball related equipment, give us a call at 877-891-2476 or
message us here
.
To order or to receive dealer direct pricing, simply click the "Add to Quote" button above and one of our representatives will promptly respond within 24 business hours. We, at GameTime Athletics, look forward to helping provide your volleyball team with everything they need to be successful in the game.
Dealer Direct Lowest Pricing
24 Hour Weekly Response Time
FREE Shipping!
You may add this item along with other products before proceeding to your free quote.