Soft Play Volleyball
Serving Kansas City & the Continental United States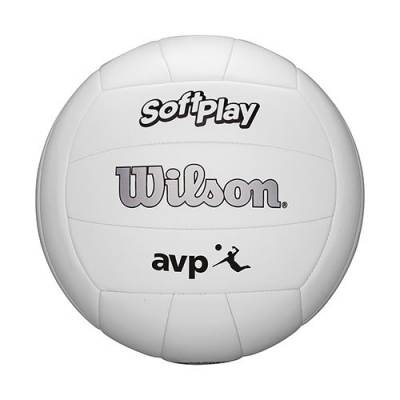 Features & Specs
Wilson Soft Play Volleyball Specs:

Dimensions: 8.12"L x 8.50"W x 8.50"H

Weight: 0.8 lbs.




Wilson Soft Play Volleyball Features:

Uses: Recreational Backyard, Indoor Gym, Park, or Beach
Color: White with Black Lettering
Official Size and Weight Used at Pro Level
Ideal for Ages 13 and Up
Material: Sponge-Backed Leather Cover
18-Panel Machine-Sewn Construction
Butyl Rubber Bladder Keeps for Longer Ball Inflation






Soft Play Volleyball Details
The Wilson Soft Play Volleyball, available through GameTime Athletics, stands as a premier choice for both casual and competitive volleyball enthusiasts. As an authorized Wilson distributor and nationwide dealer for premium sports equipment, GameTime Athletics ensures that players have access to top-of-the-line gear for an exhilarating gaming experience.
Crafted with precision and designed for durability, the Wilson Soft Play Volleyball guarantees long-lasting performance. Its soft synthetic leather cover offers a comfortable grip and enhances ball control, making it suitable for players of all skill levels. Whether you're honing your skills in practice sessions or engaging in intense matches, this volleyball delivers consistent flight and optimal playability.
GameTime Athletics takes pride in offering customers the highest quality sports equipment, and the Wilson Soft Play Volleyball is no exception. As a trusted distributor, GameTime prioritizes customer satisfaction and strives to provide reliable products that meet the demands of avid volleyball players.
Whether you are playing a recreational game of volleyball indoors in a gym or outdoors in the backyard or a sand pit, the Wilson Soft Play Volleyball is a great go to ball. Built with a soft sponge leather and an 18 panel synthetic cover, this ball can withstand the wear and tear of any volleyball court, both indoor or outdoor.
GET PREMIUM VOLLEYBALL GEAR THROUGH GAMETIME ATHLETICS
GameTime Athletics, an approved dealer for Wilson, is your go-to destination for all your ball-related equipment needs. Whether you're searching for players' equipment, coaches' equipment, or facility equipment, if it's in the game, it's at GameTime Athletics.
To explore how GameTime Athletics can assist you with your volleyball requirements, simply reach out to our team by calling 877-891-2476, or you can
send us a private message here
. We also invite you to delve into
our story
and see
our recent projects
, giving you a glimpse into our expertise and dedication.
If interested in obtaining dealer direct pricing for the Wilson Soft Play Volleyball or any other volleyball related products, simply click the "Add to Quote" button above, and a GameTime Athletics' specialist will provide you tailored pricing based on the quantity of balls you require.
Dealer Direct Lowest Pricing
24 Hour Weekly Response Time
FREE Shipping!
You may add this item along with other products before proceeding to your free quote.