Diamond DOL-1 NFHS/NOCSAE
Serving Kansas City & the Continental United States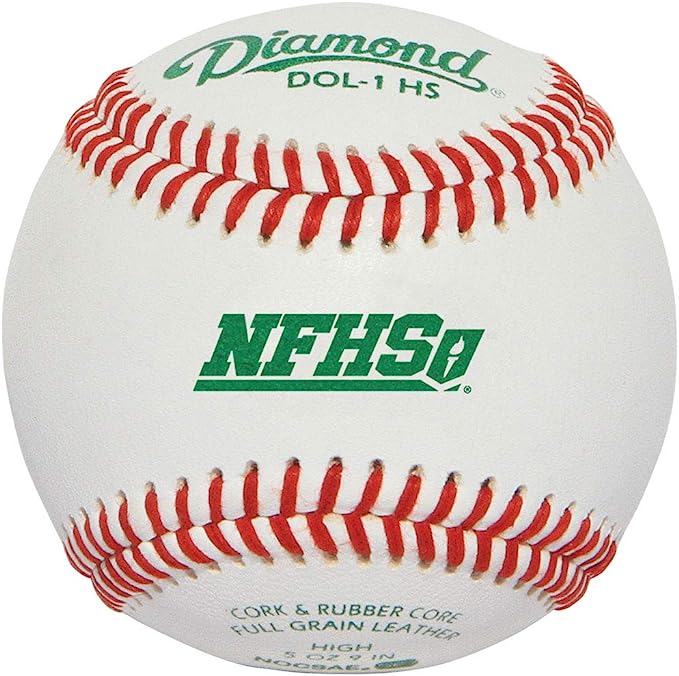 Features & Specs
Diamond DOL-1 NFHS/NOCSAE Baseball Specs: Diamond DOL-1 NFHS/NOCSAE Baseball Features:

NFHS and NOCSAE Approved Baseball
Ages: 12U and Under (Game Ball)
Ages: High School (Practice Ball)
Material: Full-Grain Leather Cover
Color: White with Red Stitching
Features Large Cork Center
Features a Raised Seam
Features Yarn Wound Ball
Quantity: 1 Dozen



Diamond DOL-1 NFHS/NOCSAE Details
The Diamond Sports DOL-1 HS Baseball, available through GameTime Athletics, serves as the epitome of excellence in the realm of high school and youth baseball equipment. As a nationwide approved Diamond Sports distributor, GameTime Athletics takes great pride in offering this top-tier baseball, designed to elevate the game of every youth baseball player from 12U to high school.
The DOL-1 HS Baseball boasts exceptional craftsmanship, meticulously constructed to deliver unparalleled performance and durability. Its premium full-grain leather cover ensures a superior grip, enabling pitchers to achieve precise control and batters to make solid contact with ease. The ball's design is carefully optimized to provide a consistent feel, guaranteeing a level playing field for all athletes.
One of the standout features of the Diamond Sports DOL-1 HS Baseball is its adherence to safety standards. Approved by the NFHS (National Federation of State High School Associations) and NOCSAE (National Operating Committee on Standards for Athletic Equipment), these baseballs prioritize player safety without compromising on performance. This certification underscores GameTime Athletics' commitment to providing high-quality, safe equipment for young athletes.
The DOL-1 Diamond HS Baseball is designed to be used in youth games (12U and under) and high school practice. It features a large cork center, yarn wound and cotton thread that bonds the cork to the cover. With it's raised seams, you won't find a better baseball on the market for kids playing America's favorite pastime.
AUTHORIZED DIAMOND SPORTS DISTRIBUTOR - GAMETIME ATHLETICS
As a nationwide approved Diamond Sports distributor, GameTime Athletics ensures easy accessibility of the DOL-1 HS Baseball to high schools and baseball programs across the country. Trust in the superior quality, performance, and safety of the Diamond Sports brand, and experience the ultimate satisfaction in baseball play.
We encourage those that don't know much
about us
to explore our website and visit our
recent projects
and learn more about
our story
. If you have questions about the Diamond DOL-1 HS Baseball or any other ball related questions, give us a call at 877-891-2476 or
message us here
.
To order or receive a dealer direct pricing quote by the dozen, simply click the "Add to Quote" button above and one of our dedicated specialists will quickly respond to your request. We at GameTime Athletics strive to be baseball's best equipment outfitter and we look forward to working with you!
Dealer Direct Lowest Pricing
24 Hour Weekly Response Time
FREE Shipping!
You may add this item along with other products before proceeding to your free quote.