Spalding TF-SC5 Soccer Ball
Serving Kansas City & the Continental United States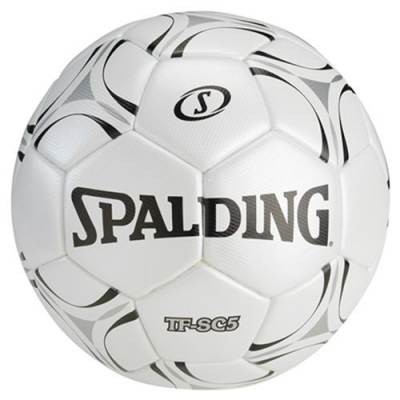 Features & Specs
Spalding TF-SC5 Soccer Ball Specs: Spalding TF-SC5 Soccer Ball Features:

NFHS Approved
Uses: High School and Professional Game Ball
Color: White with Black Lettering and Design
Material: Performance Grade Composite Cover
Features Thermal Panel Bonding Design
Includes Cloth Reinforced Bladder

Includes Premium Cushion Foam Backing
Includes 1-Year Warranty



Spalding TF-SC5 Soccer Ball Details
Discover the pinnacle of soccer performance with the Spalding TF-SC5 Soccer Ball, available through GameTime Athletics, an authorized nationwide dealer for Spalding. Elevate your game with this exceptional soccer ball that embodies precision, quality, and innovation.
The Spalding TF-SC5 Size 5 Soccer Ball is meticulously designed to meet the rigorous standards of the sport. Crafted with precision and expertise using a performance grade composite cover and thermal bonding panel technology, this ball guarantees an unparalleled playing experience whether it's at soccer practice or in a game.
Notably, the Spalding TF-SC5 Soccer Ball holds the prestigious approval of the NFHS (National Federation of State High School Associations). This stamp of recognition signifies that this ball meets the high standards of performance, size, and weight set forth by the NFHS. As a result, you can confidently use this ball for official high school soccer matches and competitions, knowing that it's built to deliver consistent and reliable play.
SERVING SOCCER PLAYERS WITH PREMIER ATHLETIC EQUIPMENT SINCE 2000
GameTime Athletics brings you the Spalding TF-SC5 Soccer Ball, a testament to both Spalding's commitment to excellence and GameTime Athletics' dedication to providing top-tier sporting equipment. Elevate your soccer journey with a ball that upholds the legacy of quality associated with Spalding.
Since 2000, GameTime Athletics has been outfitting soccer players, coaches, and athletic departments across the United States with premier athletic equipment and field maintenance solutions. Take a peek at some of the
industries GameTime Athletics proudly serves
.
To order or to receive a dealer direct pricing quote, simply click the "Add to Quote" button above and one of our team members will promptly respond to your inquiry within 24 business hours. We, at GameTime, look forward to supplying you with all your soccer equipment needs!
Dealer Direct Lowest Pricing
24 Hour Weekly Response Time
FREE Shipping!
You may add this item along with other products before proceeding to your free quote.