Championship II Soccer Ball
Serving Kansas City & the Continental United States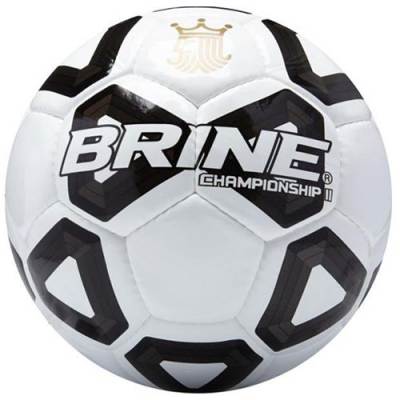 Features & Specs
Brine Championship II Soccer Ball Specs:

Size: 5
Weight: 0.900 lbs.



Brine Championship II Soccer Ball Features:

NFHS Approved Competition Soccer Ball
Color: White with Black Design
Material: High Performance Glossy PU Cover
Features Latex Bladder for High Air Retention
Features Hand Stitched Design
Offers Perfect Balance and Superb Foot Feel
Includes 2-Year Warranty


Championship II Soccer Ball Details
Elevate your soccer game with the Brine Championship II Soccer Ball, available through GameTime Athletics. As an approved vendor of Brine and a nationwide distributor of athletic equipment and field maintenance solutions, GameTime Athletics brings you a top-tier soccer ball that combines precision, quality, and performance in one.
The Brine Championship II Soccer Ball is a testament to Brine's dedication to excellence. Crafted with meticulous attention to detail, this ball offers unrivaled durability and responsiveness on the field. Its advanced construction featuring its high-performance glossy PU cover and hand stitched design ensures consistent flight and accurate ball control, allowing players to showcase their skills with confidence whether they are practicing or in a game situation.
What sets the Brine Championship II apart is its prestigious NFHS approval. Endorsed by the National Federation of State High School Associations, this ball meets the rigorous standards necessary for official high school soccer competitions. With GameTime Athletics as your trusted athletic equipment outfitter, you can rely on the authenticity and quality of every Brine Championship II Soccer Ball you purchase.
Available in a size 5 ball, the Brine Championship II caters to players seeking optimal handling and performance. Whether you're a seasoned athlete or a rising star, this ball offers the perfect balance of playability and durability. The Brine Championship II Soccer Ball is the perfect ball for serious players and comes with a 2-year warranty.
FIND PREMIER SOCCER EQUIPMENT AT GAMETIME ATHLETICS

We encourage you to learn more
about GameTime
by visiting
recent projects
that we've been working on. If you'd like to speak with us directly regarding the Brine Championship II Soccer Balls or any other soccer equipment needs you desire, give us a call at 877-891-2476 or
message us here
.
To order or receive a tailored quote, complete with dealer direct pricing, simply click the "Add to Quote" button above and one of our team members will quickly respond to your inquiry. We, at GameTime Athletics, look forward to hearing from you and are excited you are looking at us to fulfill your soccer equipment objectives.
Dealer Direct Lowest Pricing
24 Hour Weekly Response Time
FREE Shipping!
You may add this item along with other products before proceeding to your free quote.